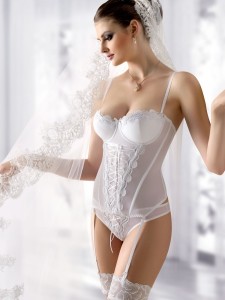 Lace Wedding Corset If your wedding is coming up in another month or so, you've probably realized by now what a complete pain wedding preparations can be and do become as the date gets closer and last minutes fiascoes are all set to go off. One such fiasco is the selection of bad or inappropriate wedding lingerie. A bride has a lot to worry about before the big day, but her major concern is that she looks gorgeous on her wedding day and sometimes looking gorgeous means how well your figure is complimeanted by the dress or more specifically your lingerie.
'Looking gorgeous' isn't a one-step thing, there's a lot to do. Starting from your dress to your hair to your makeup to your shoes, everything has to be perfect. The one thing that can really make the day uncomfortable for the bride is a bad undergarmeant choice. An excellent figure can complimeant any dress amazingly and only a great fitting flatters. How can you get that amazing figure and fitting? I'm sure the first thing that pops into your head is a 'corset'.
Corsets
If you're wondering whether you should wear a corset under your wedding gown or not, then this is what you should be reading. Here's a little advice to help you finally make that decision about wearing a corset on your wedding day. I'll definitely agree that corsets are indeed gorgeous and it'll make your waist look small, but are corsets the best idea for today's clothing?
Clothing in today's age isn't like before, it has evolved and evolved so that clothing today isn't really cut out to permit the extra added bulk and period shape of a corset worn underneath your clothing. To really look gorgeous and glow on your wedding day the most important thing is that you look happy and comfortable which is something the tight suffocation of a corset isn't really going to allow. Corsets are known to be intensely uncomfortable and women choose to wear these under their wedding gowns they underestimate the importance of actually feeling comfortable on your wedding day.
Lumps and Bumps
If you're worried about weird lumps and bumps under your dress then don't worry, a corset isn't the only solution for it. Try wearing good shape wear. This may seem rather unconventional in comparison to the whole 'corset under your wedding dress' thing but, it will definitely end up being a clever choice. Wear good shape wear under your wedding dress instead of a corset and you will not only feel smooth and shaped under your dress but you will also be able to dance, breathe, socialize and most importantly you will actually be able to smile. Looking gorgeous doesn't always come with a price, especially when the price is suffocating yourself for an entire day. Look gorgeous on your wedding day and feel comfortable, God knows it's what you deserve after months of nerve-wrecking wedding preparations.