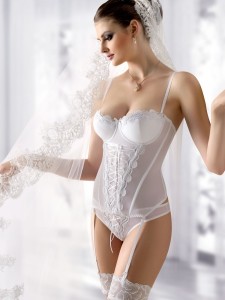 Whenever we talk about luxury underwear, wedding lingerie is undoubtedly the most important kind. I remember what a terribly hard time I went through when I shopped for my wedding lingerie. Shopping for your wedding lingerie is no easy deal; there is so much to consider that you're often left wondering if you're even capable of the job. There is no way buying bridal lingerie can ever become easy unless you have a little guidance. These are a few tips that can make shopping for bridal lingerie considerably easy.
Remember who you are
Your wedding day isn't just some random day, it's 'your' special day. The first and most important thing you must keep under consideration while shopping for your bridal lingerie is that although your lingerie needs to be sexy and alluring, it must first be a reflection of your personality. Whichever bridal lingerie you consider buying should be a reflection of your own personal style. The next thing you must keep is: comfort. Many women underestimate the importance of comfort of their bridal lingerie which they later learn the hard way. When you spend an entire day constantly on your feet being invaded by ton and tons of people; all your friends and family, do you realize the importance of comfortable bridal lingerie. Remember, it is absolutely essential that you buy bridal lingerie you are most comfortable in. Another thing to remember, if you're not a fan of corsets and boning, try to stay clear of basques and merry widows.
Don't Go in Blind!
Wedding time is always full of chores and unattended errands, so it's definitely possible that you forget a detail like: lingerie. Sure you've already bought your bridal lingerie, but have you tried it? The minor detail that many brides often forget after they've bought their bridal lingerie is: trying it on with your dress before the big day. This way you won't have to face any unwelcome surprises or incidents on the wedding day. It'd be quite devastating if on the big day, you realize that the gorgeous bridal lingerie you bought doesn't fit under your dress. You should always keep in mind all possibilities and make an official try out possible before the big day. Another important thing is to keep in mind the design of your dress while you buy wedding lingerie, you can even ask the dressmaker for a few tips on the type of bridal lingerie to buy. Keep in mind these little but crucial tips while buying your bridal lingerie and hopefully things will go just peachy!