Are you getting married? Have you fantasized a picture perfect wedding ever since you got engaged? My only question is; Do have the right lingerie for your wedding day? Haven't gotten around to this "tiny detail"? Unless you want this tiny detail to destroy the way your dress looks and holds, don't consider your wedding lingerie a last minute shopping item. Not only should you have ample time for this activity, but also enough fantasy margin to start exploring new and exciting ways to make your wedding night special too. Here are a few tips to keep in mind!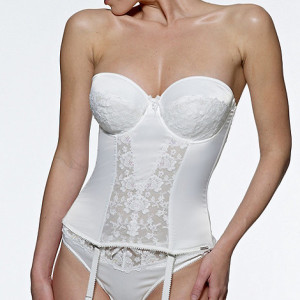 Wedding Lingerie Keeps it all Together
You will be a public figure at your wedding, which may turn out to be really uncomfortable, IF your lingerie is not the right fit, comfortable or simply not sitting right on your body. Choosing the right Lingerie set will definitely keep you in your comfort zone. Everybody knows a Bride needs to keep her smile up, all day long! To maintain that image, you should be very careful when choosing your lingerie set. The key to success here, is feeling comfortable, with style.
A Balancing Act
Bridal Lingerie is all about making you look sexier and happy at the same time; it's a balancing act from the ceremony to your wedding night. You want comfort and confidence to shine through during the day and allow that sexy siren to come out at night. How to get the best of both worlds? It's simple, find the right combination of lace and frills for him, but, with a sturdy push up or corset for your dress to sit well, on your body. There is no rule of thumb for this, except, comfort! THAT is the only real essential.
Don't Wear Anything for the First Time!
Are you one of those women who do not wear corsets or boning? Do you feel that thongs are unsuitable and rough? If so, then wearing any of these items on your wedding day will be a bad idea, Basque too should be filtered from your Bridal Lingerie options. It is really important that the Bridal Lingerie you decide to wear should workout for you. Even if you are willing to sacrifice your comfort for the day, it's no good because, weddings are a long affair, not to meantion stressful. You will only end up putting yourself in a lot of unnecessary grief.
Lingerie Should Complimeant Your Body Shape
You want to look sexy and beautiful then make sure that your lingerie complimeants your figure. Always buy your Wedding dress before you even think of buying your bridal Lingerie, the color, shape and style combination should be perfectly aligned with your dress. The netting or cuts of your bridal dress may encourage a selection of the most appropriate lingerie. To make things easier on the big day, try to take lots of advice from the consultants at the shop. Luxury Lingerie All the Way To make your wedding night something to remember, invest in boudoir or luxury lingerie to really set the mood. Don't let this be the last thing on your list; you will have no time to search the markets, days before the wedding.
If you want a traditional touch on your wedding night, then get a pair of White stockings with Garter belts. While white makes any lingerie more appealing, you can always purchase darker color stockings to create a sexy contrast for your partner as well. Give it Time (AND Money) Don't forget it's your wedding, take your time with this, find what works best and stick to it. Create a checklist of your lingerie; this might help you control your stress when things start to pile up. Invest time, but, also money into this venture. When you go on your search, consult your married friends, explore, have a friend tag along or just do it yourself, make the process fun! Since your wedding lingerie is not something you buy repeatedly (hopefully), try to set a good budget for it.