The right bra is the key to feeling free to flaunt your figure. Ladies with a full bust need to invest in plus size bras that can accommodate their curves. It is important to steer clear of flimsy and uncomfortable bras that will leave your cleavage lacking in the support category. Here are some tips to help you find the perfect plus size bra to cradle your top assets.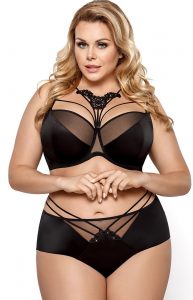 Favorite bras should offer both the maximum comfort and self-confidence
Gel Gets Great Results
Every woman with a sizable bust has suffered the pain of an uncomfortable bra clasp. The discomfort of having your skin pinched by an uncomfortable clasp and hook is insulting. Look for a full cup bra that features a gel-padded closure to eliminate that discomfort. This style is sometimes called a "spa closure" by manufacturers. The added layer of soft gel creates cloud-like comfort and eliminates painful pinching.
Contour Cups Create a Captivating Bust
Nothing provides sturdy bust support quite like an underwire bra. It is important to be choosy about the fit of the plus size underwire bra you select. Be sure to avoid a bra that has a stiff form unless you want to risk feeling squeezed and pinched. Contour cups are a fantastic solution. An underwire bra that features contour cups offers a unique degree of flexibility and support. Counter cups add a dimension of fluidity and naturalness to the traditional fit of a plus size underwire bra.
Go Sleek and Sexy with a Seamless Bra
Seamless plus size bras create a tantalizing silhouette. It also offers support while allowing you to breathe without the restriction that comes from wire support. The key to finding a quality seamless bra that can handle a fuller bust is to select one that has a supportive clasping system and adjustable straps. Always select a bra with straps that are dependable enough to stay positioned on your shoulders as you move. The straps will allow you to create a tight fit that keeps your breasts firmly in place in lieu of wire support.
Minimizer Bras
No woman should ever feel ashamed of her lusciously lovely full bust. However, there are some days when a woman simply wants to downplay her curves. This is the perfect time to experimeant with a minimizer. Don't worry about having to hide these plus size bras in the back of your lingerie drawer out of shame. Modern minimizers are constructed identically to standard bras and are meant to be flattering and beautiful. There is no magic trick behind how minimizers work. They simply compress your breasts to appear a cup size smaller while providing a comfortable fit. Most minimizer bras have cups that contain spandex and cotton. A full bust doesn't have to mean a drawer full of bras that don't work. The styles meantioned above all provide comfortable, breathable, and beautiful bra solutions that work for every occasion.