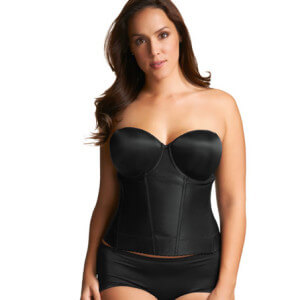 Clothes may not make the woman a different one, but if you are trying to pull off a certain look, what you wear can be very, very important in achieving that effect. Whether it's a bra or a dress, pants or a skirt, everything can be combined to create the believable impression, that you are slimmer than you are. All you have to know, is what works specifically for you and just how to utilize colors and patterns to your advantage.
What Clothes Will Make You Look Slimmer?
There are certain types of clothes that are designed to slim you down, plain and simple. The corset has been making a comeback. While popular at Renaissance Faires and steam punk conventions, corsets have become more and more common in everyday woman's wardrobe. If you choose to wear a top with boning to keep your figure slimmed, the corset or a well crafted bustier is an ideal solution that will lend you a touch of the exotic as well. Wear high heal shoes! In addition to altering your posture, pumps, stilettos, wedges and other high-heel shoes will also make you appear taller than you are. You can create even more slender look by picking the heeled shoes with ankle straps. They will optically slim your feet and legs all together. Ankle strap platforms are very graceful and comfortable at the same time. Wear the skirts and pants that are rather high-waisted, as they make the impression of having longer legs and slimmer hips. At all costs avoid hip-high belts, they are meant for tall women who want to emphasize their lower assets. If you are about to wear a high waist pencil skirt, make sure to pair it with hip length jacket, it will take the attention away from your stomach. Together it is a marvelous match. The well supportive underwire push up bra will play a huge role in shaping your silhouette. Sagging breasts create a bulky look above your stomach. You can't do it to yourself, while the cure is right there - in countless lingerie stores!
How Color and Pattern Play Into Slimmer Look
Watch out for colors that optically add to the real body size. Avoid large patterns and flowers at all costs. Horizontal straps are a bad choice. Avoid placing decorative bows, scarves, etc in places where you don't want to draw anybody's attention. Don't wear frills - you will get the opposite effect. Black is slimming. Clothing items with vertical stripes help to create the impression of a slimmer silhouette. Colorful triangle-shaped designs that cut across the chest and stomach, while leaving the sides many shades darker, can make you appear visually smaller by few sizes. Colors that scream for attention (like orange, yellow, pink, red) will get you attention - avoid them in the areas where you don't want people's eyes. Pastel and darker colors visually cover the imperfections, use them as your shield. Louder colors you can use for the body parts that are the assets to you!