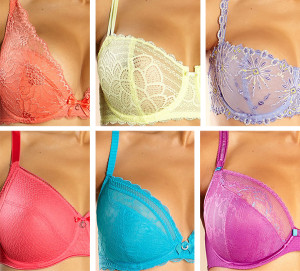 You've probably been wearing a bra since a pre-adolescent and there are great chances that you have a favorite bra, a bra you wear whenever you need an extra bit of good luck and it is also very likely that you know that wearing that black satin and lacy bra will turn him on. However, have you ever wondered what a bra is?
A Bra: Defining a Classic Piece of Underwear
A bra, short form of brassiere, is a form-fitting underwear item that women wear in order to support their breasts. Along time it has become a social norm _especially in Western countries, for women to wear bras on a daily basis. Many women are convinced that they prevent breasts from sagging even though there is no medical proof of this. Believe it or not, bras are not simple to make. They are complex garmeants that are made of multiple parts. To make things even a little bit more complicated, not all bra manufacturers or designers share the same criteria regarding sizing systems and methods of bra measuremeant. Therefore, it is not strange for many women to be completely ignorant of the correct bra size for them or to discover that they wear different bra sizes depending on the bra brand they buy. Most bra designers and manufacturers produce ready-to-wear bras that fit almost every woman's body. However, women with very asymmetrical breasts or that have undergone a mastectomy should look for bra manufacturers that can design customized bras to satisfy their specific needs.
Bra Design and Confection
Making a bra is one of the most difficult tasks a designer can have. Believe it or not, an average bra has between 20 and 48 parts, including cups, straps, lining and the band. They are build on a square frame model. A bra is very technical piece of underwear as designers need to remember tens of facts simultaneously while confectioning a bra. Amongst them we can meantion: the different cup sizes, all seams should be strong and robust as it is a piece of clothing that will be washed almost every day and the fabric used as it has to be soft and comfortable when in touch with the skin.
What Fabric is Your Bra Made Of?
At the beginning bras were made of linen, twill weaves or cotton broadcloth. In modern times, a wider variety of fabrics are used to make bras more comfortable and durable: Spandex, satin, lace, microfiber, Tricot, etc. Many times, bras combine different fabrics in order to achieve specific purposes such as providing more support to the breasts, more comfort and security when performing any fitness activity.
Bras: What Type of Bra Are you Wearing Today?
I'll give you a minute to open your lingerie drawer and look at your bras. It is very likely that you don't have a single type of bra and that you wear one or the other depending on the occasion and the type of clothes you are wearing. The different types of bras available in the market are designed to enhance or minimize the size of breasts, emphasize your cleavage, athletic support or nursing. Amongst the most common types of bras we can meantion: full-cup bra, plunge bra, balconette bra, demi-cup bra, padded bra, push-up bra, strapless bra, sports bra, underwire bra or minimizing bra. As it can be appreciated, there's a lot to say about bras as they play a prominent role in women's life.