You might be shocked to learn that your American bra size might not be the same as your European bra size. You should keep this important bit of information in mind if you love to browse the globe for beautiful bras. The dizzying differences in international sizing standards are enough to baffle the brains of even the cleverest mathematicians. Every country has a unique interpretation of cup sizes. Even manufacturers are beginning to stray from recognized standards to create their own measuring systems. It is important to be aware of these trends in order to make sure you don't end up with the wrong fit the next time you buy a new bra.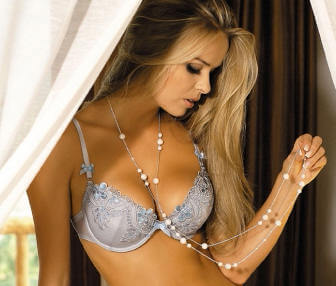 Differences in European and American Bra Sizes
Do you like to shop for lingerie from around the world? Sourcing your bras from more than one continent can be confusing because American retailers and European retailers typically use different sizing standards. This fact is especially important to remember when you're shopping online instead of holding the merchandise in your hands at a store. You will need to rely on math when a dressing room isn't an option.
There is no simple conversion formula to apply when comparing international bra sizes. You will need to rely on conversion tables provided by individual manufacturers in order to guarantee accurate size comparisons. The good news is that most European cup sizes are compatible with American cup sizes up until size D. It is always beneficial to confirm your findings with manufacturers even if you think you've mastered the fine art of size conversion. You don't want any surprises when you put on your new bra for the very first time.
Cup Confusion
International sizing differences aren't the only source of confusion in the bra industry. Some lingerie manufacturers rely on their own proprietary measuremeant systems that depart from international standards. It is always important to contact a manufacturer and ask for a conversion table before you commit to purchasing a bra. This need for vigilance even applies to American brands. It is becoming increasingly popular for American and European brands to implemeant custom cup sizes that only apply to their products. This trend is part of an attempt to create brand loyalty among customers.
Making Sense of Bra Madness
Learn to be flexible about your bra size. Savvy shoppers should never assume that the same standard for sizing that they rely on in the United States will apply to international brands. The best thing you can do as a consumer is to memorize your own personal dimensions in order to keep up with the changing sizing trends in the lingerie industry.