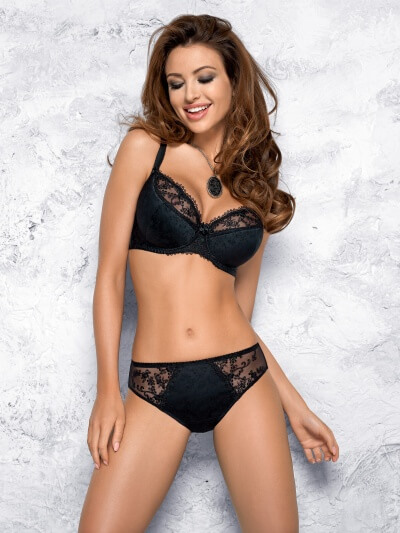 Known for offering only the finest in European Lingerie, Wiesmann Poland based Lingerie Designer devoted exclusively to the production of exquisite lingerie and swimwear. Rapidly gaining popularity across the Europe, Wiesmann takes lingerie to the next level of elegance, beauty and sophistication. What started out as a family based business has now developed into a world recognized lingerie brand. The Wiesmann brand has rapidly expanded from its humble beginning and is now widely sought after by international distributors. This luxurious brand is now being brought to those of us who crave only the most refined quality in fabrics and seek the ultimate in terms of style and fashion. Wiesmann is dedicated to providing all of its clientele, which includes us lingerie addicts, with only the most eloquent of European lace. Each individual item is delicately designed with unique, intricate details and rich embroidery. From sensual satin nightdresses, to exquisite lace panties with elegant matching bras, Wiesmann offers everything you require to complete your sexy lingerie wardrobe.
Where can you buy Wiesmann Lingerie?
Wiesmann Products are readily available in Europe and in boutiques around European countries. In United States and Canada Lacy Hint is the only store that carries Wiesmann Lingerie and ships it from Florida free. You can find Wiesmann bras Here and Panties Here Lacy Hint Imports these beautiful bras and panties form Poland and distributes them globally.
What we like about Wiesmann bras?
Wiesmann lingerie focuses on three leading styles: sheer balconette bras, sheer demi or full cup bras, and semi-sheer (half padded) bras. All the tulle fabrics of top quality European descent create the bra that is both delicate, but strong as well. Wiesmann cares about bra durability, therefore sheer bras are always lined with second layer of delicate mesh. Bras do last longer than many other competitor's lingerie and for that reason we picked Wiesmann to deliver their products to you. Wiesmann's balconette bras are our top selling products and have gained loyal returning customers. Unlike some plain lace balconette styles, Wiesmann lingerie combines sheer tulle with sophisticated embroideries. The embroidery pattern varies from style to style and every year surprises us with creativity. In sheer bras design you can find many floral and ivy themes in colors like black, white, beige, ivory, cream, light blue, navy blue, many shades of pink and red. The most interesting styles feature multi-colored embroideries on sheer surface, like combination of black-purple-beige or ivory-beige-pink. The icing on each Wiesmann bra is a jewelry accent. In between the cups there are adorable cubic zirconia crystals in different shapes and sizes.
This little detail makes an enormous difference in the way we feel about lingerie. Most of the bra styles come in with removable bra straps, that you can replace with clear straps in the event of wearing a strapless top. Versatility of features makes Wiesmann's bra not only classy but also practical. All Wiesmann's panties are entirely or partially sheer. They specialize in thongs, bikini panties and hipster panties ( also called boyshort or boxer panties) in sizes from Small to Extra Large. Some thong styles are made with completely seamless back to prevent panty lines. Where sheer balconette bras come in limited size range, sheer demi and full coverage take over up to cup size K in Wiesmann collection. Lingerie makers believe sheer balconetttes provide lift and support up to some sizes, where two-part cup construction is enough. Much larger sizes offer the same feature with extra seam support, if you want the same excellent appearance. While white and black lingerie belongs to basic collection, colored bras and panties usually belong to limited seasonal collections. Limited edition styles are truly exclusive, never to be repeated again.