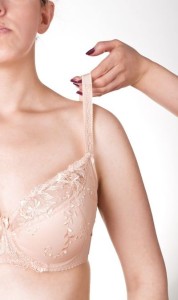 Wearing a bra is one of those things that women do almost without thinking: they just put it on and wear it all day long without thinking much about it. We even usually don't think much about what bra we'll be wearing unless we're getting dressed for a special occasion or we need to choose our bra more carefully. [caption id="attachmeant_4514" align="alignright" width="244"] Wearing a bra with loose straps is very uncomfortable[/caption] However, there are certain occasions in which wearing a bra turns out to be uncomfortable, totally uncomfortable: wearing a bra with bad-fitting issues can be a nightmare… especially when we don't know how to fix them. If you have been a victim of nightmarish bras, then this article is dedicated to you. You'll find savvy tips that will solve some of the most common bad bra-fitting issues.
Wearing a Bra With a Falling Strap
Wearing a bra with a falling strap probably ranks as one of the most annoying things for a woman. If you're wearing a bra with straps that spend more time sliding down your arm than resting on your shoulder, you should try one with adjustable straps. It may also mean that the elastic of the strap is aging and therefore the bra needs to be retired.
Wearing a Bra whose Band Rides Up Your Back
If you're wearing a bra whose band rides up your back it means that the bra is too small for you. A good alternative is to wear a bra with a reduced band size and a larger cup size. You are also advised to consult with a lingerie salesperson that can measure your bust size and help you choose a bra that will fit you perfectly.
Bulging Breasts
Bulging breasts are the result of wearing a bra whose cup is too small for you. This is not only uncomfortable but also definitely unsexy!!!
Wearing a Bra with Cups That Gaps
Wearing a bra that creates unusual gaps and bulges on the clothes you wear is uncomfortable and don't add to your glamour or silhouette. It means that the cups are too large for you. Despite how disappointing this can be for you, you should opt for wearing a bra with a smaller cup size that offers you a fitter fit.
Painful Straps
Your bra should make you feel sexy and gorgeous, not in pain! If your bra straps cause you pain you should find a definite solution to the problem. If this is your bra-fitting issue, make sure you are always wearing a bra that has widely set apart straps.