Buying lingerie is tricky business, even women get confused sometimes. It makes sense why most men are hesitant to enter this estrogen fueled stronghold. More than once you see men lost and confused in lingerie shops. Even if they end up managing their discomfort, the purchases are often lacking in some respect. Why? Maybe she didn't like the cheetah print as much as you thought she might or the lace was pretty but, too tight. It's okay to feel out of your depth here. Nobody expects men to be experts on lingerie. However, if you are a guy who's willing to brave the intimidation to make your lady feel special and make your night even more so, here are a few essential tips to keep in mind.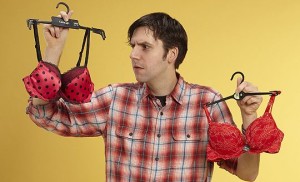 Don't Go With Your Gut Feeling; It Can Be Wrong
Before buying lingerie ALWAYS ask your lady. Be straightforward, be subtle, but don't rely on your gut alone. Ask her what she prefers and what kind of colors she likes to wear. Do not end up buying a personal fantasy that makes her uneasy. If you want to surprise her and know her well enough, ask yourself, honestly, whether your lady will appreciate what your picking for her. What you like to see her in and what your girl prefers, is not necessarily the same thing. If you get sheer lace lingerie or a screaming animal print when she's not comfortable with that kind of flair, your purchase will be politely buried in her lingerie drawer.
Get the RIGHT Size
Beautiful lingerie in the wrong size can be a traumatic experience for many women. This is the area where a lot of men fumble and get bigger or tiny sizes. This can get awkward and spoil your efforts. An ideal thing to do would be to find out her favorite brand and try to limit your search to it. Since different brands fit differently, even when they are the same sizes, its best to not confuse yourself too much. If you can't figure out her favorite brand or if she doesn't have a particular preference, get her out of the house and do a recon session. Find three different bras and panties to get a close average of her true size.
Get Colors
This can be the best feature of your purchase. If you find underwear that complimeants the color of her hair, eyes or skin, you have set yourself up for success. Every woman has the usual variety of nude, black, white and red. Try to be creative and get different shades, maybe something bold or something in a pastel shade.
ASK!
Don't get embarrassed. Once you cross the threshold of the lingerie store, don't act like you're there by accident. Ask for help, the sales girls are there to assist. If your sincerely trying to find something great for your girl, they will help you land the perfect piece, only faster. Ask them a lot of questions about the latest fashion, what's comfortable and lacy etc. This may sound hard but it really isn't. Once you present your girl with the perfect purchase, you will reap the rewards and they will be far greater than any embarrassmeant you might have felt during your time at the store.