Retro means the new modern. There had not been time yet to be so keen on come backs in lingerie and swimsuit fashion. We love what was classy and feminine, even if it means wearing high- waisted or high-cut bikinis, petal busts or bloomers. Even if some of us don't like to wear girly sundress instead of tiny string bikini, we gradually get more curious about bikini tops and bottoms with floral prints or dotted patterns. We still like to uncover our tanned bodies, but also like to play seek and hide for a bit. Frills here and there, little bows, plain colors, or on the opposite all in one color mix. Black and white stripes, stripes in rainbow colors - it is all available on the market.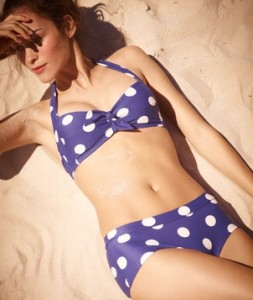 Some places offer the modest styles popular in the 50s, the others are great to look for 80s disco styled garmeants. There are plenty of styles for retro bathing suit lovers and here are hints where to find them.
Boden USA has now new styles for upcoming summer. Dotted halter top with knot in the middle, available in plenty of colors to choose from. Match it with the high waist bikini bottom and you good to go! 93 percent of reviewers are already happy with this retro bikini style.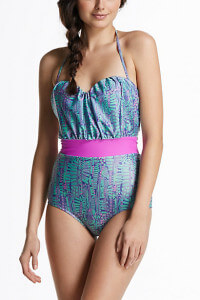 Anthropologie will never disappoint you when it comes to retro fashion. I love Rodanthe Colorblocked Maillot one-piece. However Noelle Madagascar Print Resa beats everything with its extraordinary color and pattern. You can remove halter straps if you want to to just stay with ties back closure.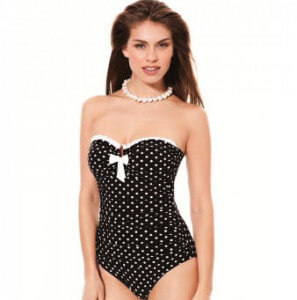 Cute dotes, bows and ruffles will beautifully flatter your silhouette with this Bandeau Bathing Suit by Gottex. You can find it at Popina Swimwear. Available from size six to sixteen, great style to accentuate your curves the best way possible.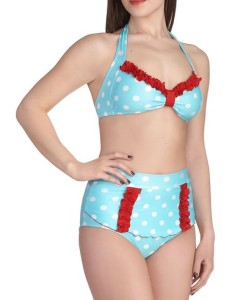 Sky blue two piece swimsuit with white polka dots and adorable red ruffles from www.modcloth.com is another vintage inspired swimsuit that will flatter your figure, cover you belly area and draw all the attention to the top.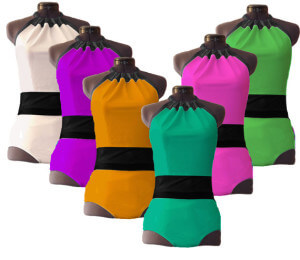 If you still have a month to wait for custom made retro styled swimsuit in any two colors combined together, check at Etsy. Black belt and neck tie style is surely an interesting option for 80s lovers!