Every woman wants to feel like she's worth a million dollars. Many ladies dream of lingerie that is encrusted with diamonds and dripping with jewels. A bra that is lit up with diamonds isn't exactly in the budget of the average woman in the real world. The good news is that you can fake it when it comes to extravagant undergarmeants. A Swarovski crystals bra is a fantastic alternative to real gemstones. Swarovski crystals lingerie is brilliantly beautiful and surprisingly affordable. The only downside to sexy crystal creations is that you might have a hard time finding out where to buy them. It almost seems like you need a magic crystal ball in order to find a crystal bra.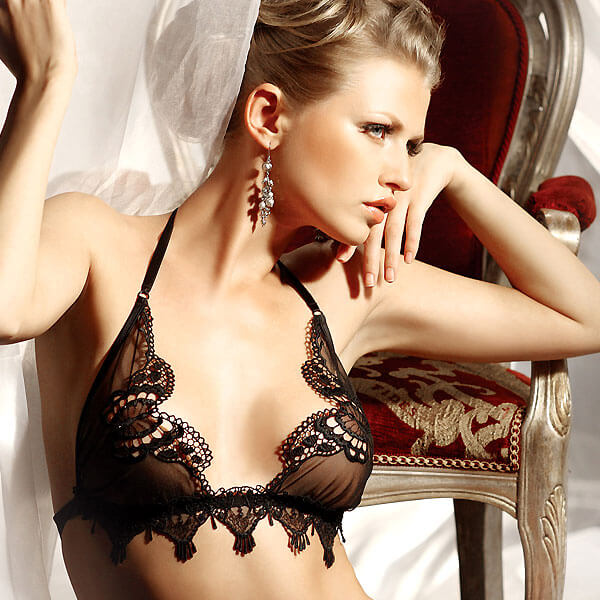 The Difficulty of Finding Crystal Lingerie
Most major departmeant stores and lingerie brands don't feature a Swarovski crystals bra as part of their main collection. Crystal Skins famously designed a bra that was covered in over 6,000 Swarovski crystals back in 2011. The bra was a promotional piece for the company and it never went on sale to the public.
Discovering Where to Shop for Swarovski Crystals Lingerie
A woman with crystals on her wish list will have to do some digging to find the bra of her dreams. Online stores that cater to women who like costume lingerie are among the only retailers that carry designs that are encrusted with crystals. A small number of retailers like Playposh.com provide bras that feature Swarovski crystal accents. Victoria's Secret has featured Swarovski bras in their collections in the past but they don't currently offer a Swarovski bra. Some of Victoria's Secret's Swarovski items from past seasons can now be purchased on Ebay from previous owners. There are also many independent fashion designers creating crystal bras and making them available on websites like Etsy.com.
Where to Find a Fancy Panty
A Swarovski crystal panty is a tad easier to find for the average woman compared to sparkly bras. Lingerie retailers like Yandy.com feature a number of skimpy styles that are embellished with glittering Swarovski crystals. Yumdrop.com is an online retailer that also offers a number of theatrical panties that feature brilliant crystal accents. Swarovski crystals lingerie is quite rare to find due to the delicate nature and high production cost associated with items that have been embellished with crystal. The average shopper will need to be creative and resourceful when it comes to sourcing her supply of gemstone lingerie until the time comes when retailers make crystal accents an ordinary part of their collections.