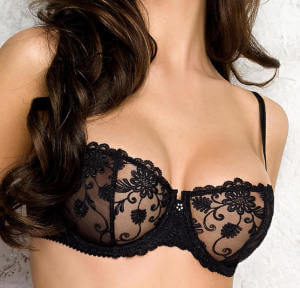 Balconette bras are one of the most sought after bra styles, but it is hard to find the one that will give you the absolute comfort in wearing and desired uplifting feature. Once you know the bra brand that makes them with the highest quality fabrics and perfect design, you should stick to it. Lacy Hint carries balconette bras of two top quality European designer brands:
Wiesmann Lingerie and Gorsenia Lingerie. Wiesmann specializes in sheer balconette bras with unique patterns and colors, both as basic and limited collections. Year to year editions differ from each other, but the perfect design is always their best asset. Most balconette bras fit perfectly large and heavy breasts or small and firm busts. However there is a type of bust that needs more support even in a balconette style. If your usual bra size is on a higher end because of a lot of breast skin tissue, but not as full or a bit splayed, the typical balconette with extremely horizontal top edge of a cup will more likely not fit best. The top edge of bra cups might "stick out" a bit due to lack of breast tissue in a top part of your breast. In this case you should look for a balconette bra with slightly diagonal cut.
Ines Black Sheer Balconette Bra is the best fitting balconette bra if you typically need a push up bra, but want to stay sheer. The top edge of the bra cup gently hugs on top, and doesn't create the "empty sheer part" with breast tissue missing. If you love to feel like "there is nothing on", sheer bras are the best choice. The underwire creates the round shape and support under any top, but the light feeling stays. Search through our balconette bras collection online or visit a store located in Juno Beach in Palm Beach County, FL for an opportunity to be well fitted and advised about best balconette bra for your body type.