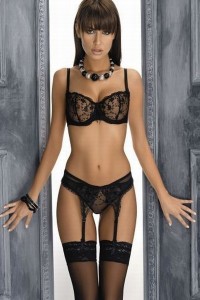 Ines Embroidered Black There is so much variety when it comes to sexy and alluring lingerie. From the traditional black lingerie to the famous push-up bra you can always find a great selection for any occasion online or the neighborhood shopping mall. A great resource for newlyweds like yourself, can use lace thongs combined with embroidered lingerie to make this momeantous occasion one that neither one of you will ever forget. Using your imagination to mix and match dark lingerie with other bright colors can be a great contrast. For instance a black and red push up bra with a red lace thong can be very appealing to most men.
The advantage of classic lingerie styles is that you can wear them and look good no matter what size you are. If you're thinking about splurging for Valentine's Day, consider a beautiful lace bra along with matching garter belts. These two very hot items are often a favorite for men and can help you get in the mood for a romantic night. Why not go all the way and also get a pair of matching lace thongs to complete the look? You could also add those furry little slippers and scented candles to soften up the room. All of these little accents could make the difference between just an ordinary celebration to one that can be repeated over and over again!
Have you ever considered wearing a black push up bra and a sexy black satiny dress that was originally designed as night garmeants? Many creative women find that their husbands and boyfriends love the adventurous side of this kind of dressing. You could wear a long flowing sweater to accent the dress to create a very romantic affect especially during long walks along the beach. The shimmery fabric is very alluring and adds a 'wild side' to one's wardrobe which can be really fun from time to time. Some men like the idea of their significant others dressing up in a maids costume complete with apron and lace stockings.
This old fantasy is still very popular and outfits like these are readily available in specialty lingerie stores. Lace stockings are a great accessory item that can spice up any outfit and an all time favorite for men and women alike. These fun alternative ensembles can inspire the individual's creative side which could be playful for both parties involved. Many couples have found this so delightful that they designate a night just for this kind of fun!