Buying lingerie isn't always an easy thing to do. It can be a little embarrassing, and a little exciting at the same time. However, if one is part of a couple then every time buying a bra become a necessity it's an opportunity for some interesting time together.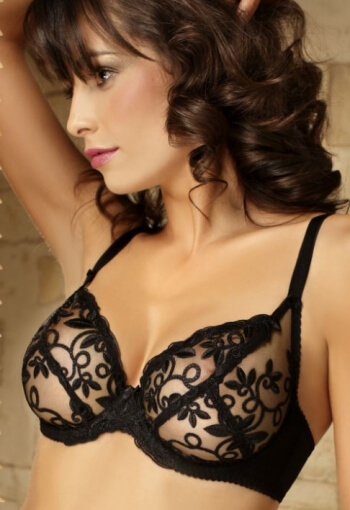 Why Shop Together?
Lingerie is something that's meant to be enjoyed as a couple. Yes you feel sexy when you wear it, but lingerie is meant to be seen as much as it is felt. But instead of just sharing it in the bedroom, that intimacy can be expanded out into the shopping trip itself. Whether it's spending some time curled up together at the computer, or actually going through the displays in the local intimates store, a couple can find out a lot of things about each other by shopping for lingerie. In addition to understanding best fitting bra styles, your man can learn what fabrics fit you best, understand the differences in support, and get a sense of what sorts of lingerie look best on you. From your end you'll be able to get inside his head and to see the sorts of things he's imagined you wearing for him. Also, the knowledge that you can at least partially bring a fantasy or two of his to life is something that's definitely a bonding experience.
How Far is Too Far?
While shopping for intimates as a couple can be a very positive experience, it's also important to set ground rules and boundaries before undertaking such an endeavor. For instance, it's important to set a budget for what you're both willing to spend on the outing so you don't get carried away. It's also important to enjoy yourself without causing too much of a distraction if you're out in public shopping. If you're shopping at home on the Internet though, then all bets are off regarding decorum. As with any other kind of experience, it's a good idea to take things slowly the first time or two. See whether or not it's an experience that you both enjoy as a couple, or if it's something that was a nice experimeant but not something you should do together very often. Every couple is unique, and if you want to spend more time together being open and enjoying something you can both share, lingerie shopping is one option. But everyone is different, too.