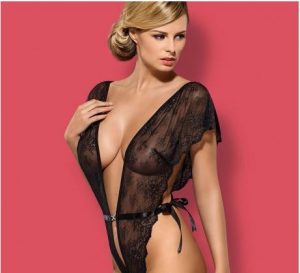 Men are visual animals and wearing sexy lingerie can make a woman feel super sexy. So where is why you should wear sexy lingerie for your man. Showing you love him with a home cooked dinner and a delicious bottle of wine is super sweet, but sex appeal can work just as well with a man's senses. "Lets be real – guys like it. We watch the Victoria's Secret Fashion Show for a reason," said Anthony Mattioli, a junior at Virginia Tech University. "For Valentine's Day, if my girlfriend like made a dessert and then came out wearing lingerie, I'd be like, 'this isn't real life.'" So yes he has seen you naked many times and he knows all the curves of your body. That is why it may be time to embark on a new adventure of the unknown with your lover. To succeed at this new take on your sex life you must have confidence. If you are not happy with the way you look and feel in your lingerie how can you expect him to. Sex appeal and confidence go hand in hand. So remember to feel comfortable in your own skin and have fun with it! Trust us he will appreciate the effort and surely ask for a repeat performance.
Time To Shop For Sexy Lingerie
The selection of the lingerie is the second most part. Browse online for fits and styles that will work with your body. Have fun while you shop, it will only add to the excitement. Try your new outfit on, embrace your curves and think about how he will feel when he sees you. Are you excited yet? Next you will have think about the additional accessories for your big debut. Nothing goes better with a sexy chemise or thong panty than a sexy stiletto. A heel will elongate your legs, and every girl knows that wearing a sexy pair of shoes can make you feel desirable and sexy. Just as long as you are not walking around in a 5-inch heel for hours. Choosing the right time for your romantic evening is also key to making this night unforgettable for both of you. Choose a night when your minds are free of worries. You will both be able to embrace the energy you have created for him.