I have tried a great deal of bras over my time. I wasn't blessed with a large chest, and this has caused me much problems in my life. After much trial and error, I finally found a bra line that I liked. The Wireless Push Up Deep Plunge Bra by Leonisa has to be my favorite.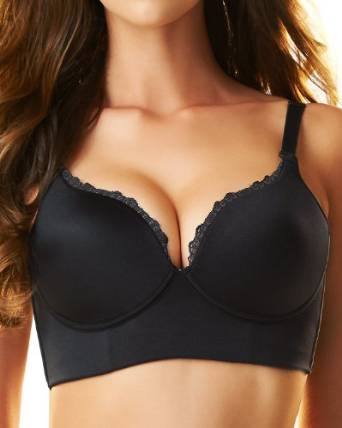 I am a unique case. I am a larger woman that has smaller breasts. It's not a combination that occurs often, but it happened to me. Finding a A-B cup in a larger 40" round is not an easy task. This bra is a high tech push up bra that makes me feel amazing. I look great in my shirts and it feels great on. Best of all the bra is wireless. I hate wires, they pinch under the arms and leave marks when I wear them for long periods of time. On this deep plunge bra form fitting cups contour to my breasts, that means that it fits everyone according to their unique body design. It has a larger torso area and that means it stays in place.
I hate when they ride up and are uncomfortable for long periods of time. The whole thing is anti-movemeant, which means I am not fighting with it all day long. The fabric is made from Durifit, and it keeps me from sweating. Also, the material washes well so those who like to wash theirs often wouldn't have any problems. It gathers, centers and lifts the breasts creating a flawless look. I would say that it enhanced my overall appearance by about 50%.
A nice four snap closure ensures that there are is no chance for it to come undone during the day. It is around $50 for the deep plunge bra, but I have one that has lasted for well over 2 years. It is worth the price, and it comes in a great color selection too. Bras are not created equal, and this one is superior.