Admit it, we've all just had to have certain designer clothes at some point in time if not always; and let's not forget those designer shoes! However, you may not have ever thought about purchasing designer bras. There can't be that much difference compared to cheaper brands, can there? Well, believe it or not, if you've never owned a designer bra you have no idea what you're missing out on. Designer bras are one of the best investmeants I made when it comes to fashion and feeling confident and sexy. After buying several, I've kind of gained an obsession with them myself. There is a huge quality difference and owning designer brands has given me an incomparable experience of comfort and confidence on a completely different level than any of the other cheaper brands I have ever owned have.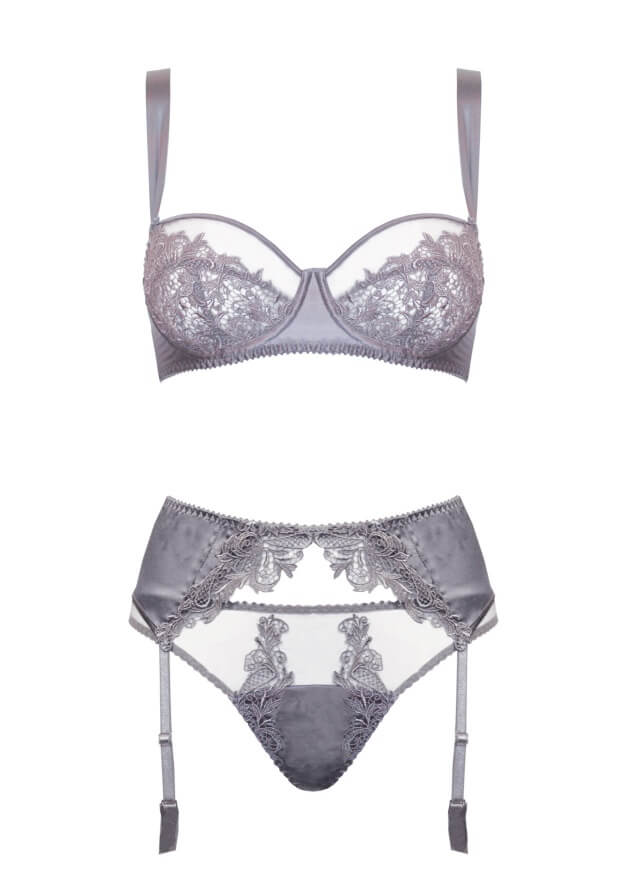 I know what you're thinking, there are so many different designers though, how do I know which one to choose from? Don't fret it, let me tell you about a recent purchase that I've made that has seriously changed my romance life. Drum roll please: The Heiress Guipure Balcony Bra by Fleur of England. This platinum grey silk bra isn't only luxurious, but gives you plenty of stability and uplift with it's unique design and underwiring. My personal size is a 32D and I still have all of the added support I need with this favorite lingerie piece of mine. Price: $109 plus shipping and handling.
Although these bras may not be the best choice if you're wanting something that hides well under clothes, the Heiress Guipure Balcony bra is true lingerie made for romance and it quickly become a favorite of mine in a bedroom too. It's extremely comfortable with it's sheer fabric and just gives me that wonderful "sexy" feel with it's beautiful William Morris inspired designs and very fine stitched invisible Italian tulle. The design and style isn't for a casual night out. This very fancy piece of lingerie features narrow platinum gray straps giving the stunning effect of a silhouette. The wide feminine satin back belt is designed to give extra stability and comfort. The price may not be as attractive as cheaper brand bras, but this piece is truly one of a kind. The Guipure embroidery is an elegant fabric designed by Fleur and exclusively made for Fleur of England.