Are you ready for a fun day at the beach or the next pool party? If you have been working out, getting back in shape, and looking the best you have ever looked you deserve to show off your great figure. You can make everyone's head turn with this year's worlds skimpiest bathing suits. With a wide array of g-strings, thongs, and micro bikinis now available, it is up to you to find which of this year's worlds skimpiest bathing suits you will wear to your next bathing suit worthy event. You could also stick to only wearing a T-back thong or a bralette bikini, or you could also check out the new samba inspired worlds skimpiest bathing suits that are becoming more and more popular this summer. A classic swimwear is the tiny Brazilian two piece. These bikinis are sexy and detailed with rhinestones and sequins. Make sure you have a few of these in your wardrobe for those extra sexy days and nights.
World Skimpiest Bathing Suits in a Classy Style
The micro bikini is only for those ladies who are ready to show everything. It is so tiny that it is the closest thing to going nude. Keep in mind that not all body types can pull off this new bikini. If you love your body and have the courage to rock the look, you only live once While it is pretty easy to find smallest bathing suit out there in black or cheap prints, classy or vibrant bathing suits need more time to find. Below is a couple of my favorite ones: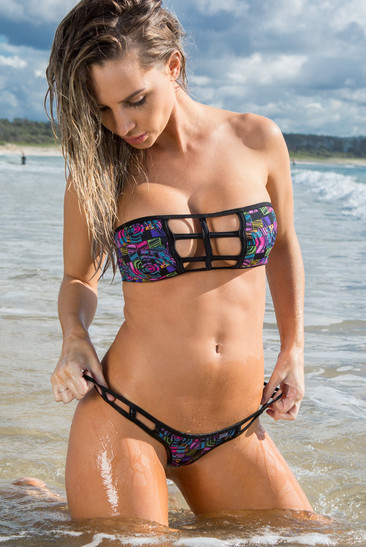 Game on bikini top and bottom in intense juicy rainbow colors: pink, purple, blue, green, yellow, with strappy front on the top and black strappy bottom sides. Bottom back screams " I am the skimpiest!". This bathing suit is made by Wicked Weasel, dressing girls in micro bikinis since 1994. They sure know what they are doing. Located in Australia, they ship world wide for a reasonable shipping charge $17-$35 AUD.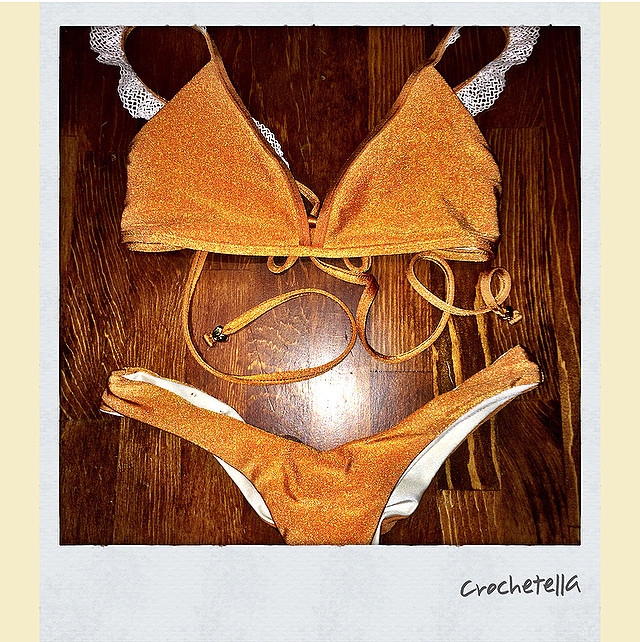 I have found another extraordinary bathing suit, which you can have in bronze or reversible shimmering color. Visit SkimpySwim store and shop their Exclusive Festival Trunk, while it lasts. Above I have presented Crochetella Top and Tanga, available in smallest and biggest sizes, which is hard to find in a skimpy swim fashion. The suit is finished with 14K gold charms, and in my opinion worth the $185. You do not have to have a perfect body to wear a micro bikini, but you just need to feel confident enough to pull the bold look off.
Take time to decide what idea of "skimpy" you feel most comfortable with. If you are the shy type then you might not want to wear a micro bikini. However, if you love your body and love to show it off, you should check out and try wearing the full range of tiny bikinis. If you love to be on the cutting edge of fashion and sexiness, check out the leather g-string bathing suit that is sure to make you feel dangerous and beautiful. Skimpy bikinis are all about pushing yourself to be bolder with your swimwear fashion. Get ready for the best bikinis this summer and great relaxing days of tanning and unforgettable memories.