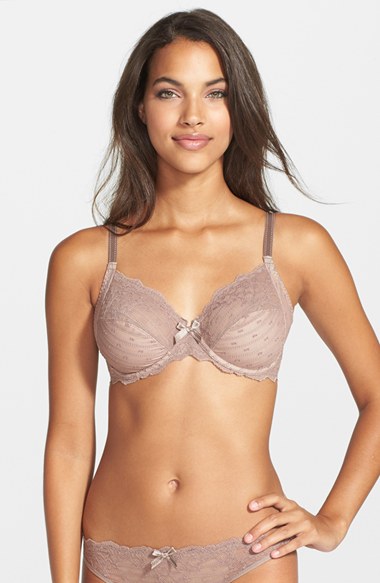 Every woman needs that perfect nude bra in her lingerie drawer. The one that makes her feel sexy even in faded jeans and an old white t-shirt. The one that makes her walk with more confidence and talk with more conviction. No one else might see it, but she knows that the right bra makes all the difference in the world. Just like finding the perfect man, you'll need to try out a few before you find "the one." But once you do, you'll realize what the hype is all about.
For me, the day I met the Chantelle Rive Gauche in Cappuccino was truly magical. After trying more affordable bras and being disappointed, I finally sucked it up and went to Nordstrom to find "the one." With feminine lace detailing the cups and the perfect light mocha color, I knew upon first glance it would be versatile and practical, but still sexy. When I put it on, the deal was sealed. It provided full coverage, but still left a peek of cleavage. It raised "the girls" but just the right amount- not up to my neck like some do, and end up making me look like a porn star wannabe. It was tremendously comfortable- not itchy and no annoying prods poking me in any way.
As I approached check-out, I was determined to purchase it and had come to terms with the $88 price tag. It was surely worth it for an item that would give me poise and make every outfit feel new. It was a pleasant surprise to find that it was a clearance item and the sale tag had fallen off somewhere! For under $50, I finally had the bra of my dreams. The lesson here? There's nothing like a good bra..and a good sale.