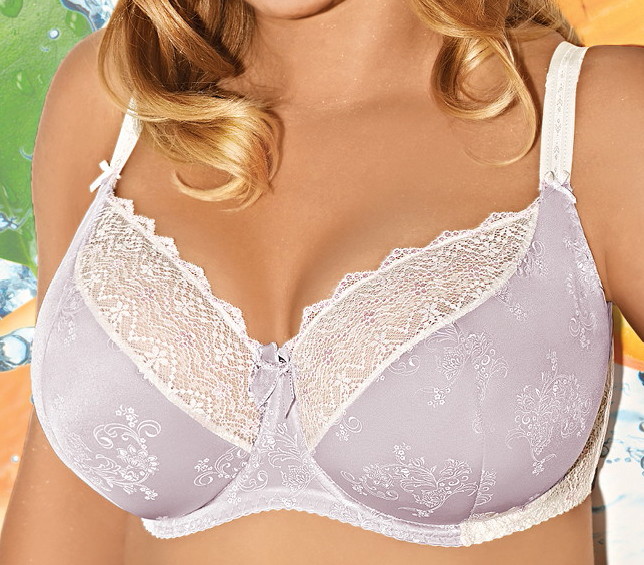 This story is about one of my returning customers and her recent purchase of perfectly fitting lace full coverage bra. I met this woman as a first time customer not so long ago when after short time spent in the fitting room she ended up buying two sheer lace bra sets in size 36DDD. She looked very classy in her well fitted knee long dress and neatly combed hair. After quick measuring in the fitting room I was surprised she used to buy bras in sizes 36D or 36DD.
As a woman with breasts after breast enhancemeant plastic surgery, it is hardly believable that her bra size fluctuates as natural breasts do.
Could she really wear such uncomfortable bras? Well yes, and many women do. I was surprised when I saw the bra she owned had the underwires sitting on her breast tissue way away from the underarms. I am always happy to see women after breast enlargemeant, as they are the easiest to find a good fitting bra for. Moreover, they look great in sheer bras. Here in Florida, where the humidity is always high and the need to look sexy is leading, being able to wear a sheer lace full coverage bra is a great asset.
Having a customer who never owned an unlined see through bra was also exciting, as I was able to offer her those bras in many different colors and styles. She ended up buying Elena Beige Lace Sheer Bra and Pamela Black Sheer Balconette Bra, both with matching sheer lace panties. It is still hard to believe she wasn't able to find such perfectly fitting bra before, when the main key was just to get the right size for her full bust.
The Purchase of a Lace Full Coverage Bra
Yesterday I had her as a returning customer. With a wide smile on her face she admitted that those two see through lace bras are the most comfortable from all she had during entire life (and she wasn't a woman in her twenties). She playfully said that she "almost sleeps in them". What a one happy woman she was! She decided to try on other bras, as she needed one that doesn't show too much lace under her printed fitted dress in light colors. Since I knew anything would fit her great and she became a lace bra lover, I suggested two half padded bras with lace embellishmeants that do not show the lace pattern as much.
She picked one of them that was to her liking - a beautiful Macy Half Padded Lilac Lace Full Coverage Bra. The bra is in very light shade of lilac, perfect to wear under light clothing. The lace part of the bra is soft, just the way she liked it in her previously purchased bras, and it stayed smooth under the dress. Linda, I am sure I will see you soon again. It is always pleasure to help you find the bra you need!