If you ever hear anyone complain about the variety of lingerie, show them this article. Our tastes, our acceptance of the former eccentric or absurd has increased dramatically. There is literally a market for anything and everything. Here are a few pieces of unique underwear that will either leave you laughing, horrified or set your pulse racing, it doesn't really matter because lingerie is literally something that is totally for you first, than for anyone else.
The Pearl Bra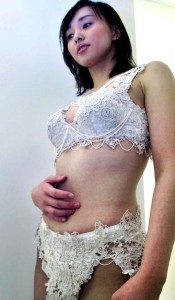 What happens when you combine lingerie and Japan's insatiable inventive nature? You get the pearl bra; a testameant to Japan's predilection for Useless inventions. Even though this creation by Triumph Lingerie probably won't make it beyond the prototype stage, it's still an amazing piece of work with its details. This piece of lingerie is made of 3000 pearls and a Belgium lace.
Strumpet & Pink Vintage Lingerie
This bunny style panty is a creation by Strumpet & Pink Vintage lingerie. While, for those out there with a likeness for role playing this is an exciting piece, this is not the only great aspect to this piece. The lingerie is made entirely out of silk with comfort, playfullness and style in mind. If you ever feel like having a sexy hop around the bedroom, you can always order a custom made pair in your choice of color and size.
Agent Provocateur's 'Soiree' Line Corset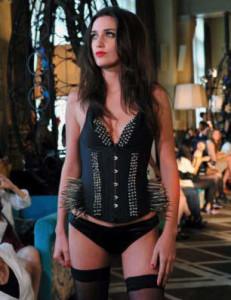 It's hard to categorize this lingerie collection, from dangerously extreme to play-suits for darker tastes or alternate luxury lingerie; there are quite a few names and colorful fantasies that can be spun around this collection. The star attraction of the Soiree line is the spiked corset. The hand-embellished leather corset has two inch spikes protruding out at dangerous angles with an excess of studs. This prime piece from this truly "provocative" collection has a wholesome tag of $4900.
Glow in the Dark Lingerie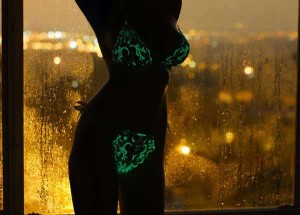 luminoGlow has come up with an interesting collection of boudoir lingerie that can glow in the dark. This is a dream come true for all those women (and men) that are into something sexy, seductive and different. The lace used to construct this luminescent underwear is soft and feminine. All you need to do is switch of the lights and let the glow do the talking. While this is eccentric, it is without a doubt a gift for the seductress in you. In the light this underwear looks similar to your usual good boudoir lingerie; soft fabric, well made and of impeccable quality.