How are the sheerest bras at Lacy Hint really looking from close? Have you ever wondered if Collete grey bra is sexy enough to wear on your dinner date? How see thru bras for full figured women are really showing off your beloved curves? If you want to see the detailed craftsmanship of these completely sheer bras from close, what may feel like almost touching them, see the photo list below. Knowing, that these most transparent bras are made by hand, each and every quality checked, only will make you feel more special. We have purely enjoyed taking photos in nature, in bright, warming Florida sun. May the ray of our everyday sunshine reach you with love and confidence.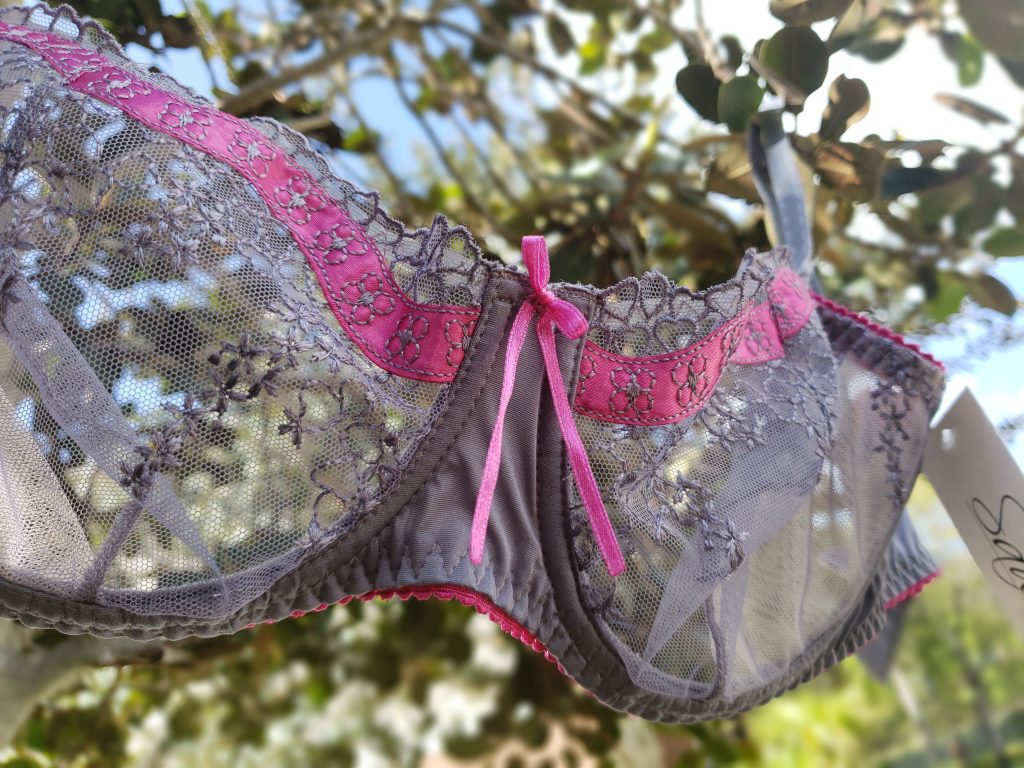 You would have never guessed that this grey transparent bra can be such a piece of art work when looked up close. Grey bra can wear many faces and in combination with wide pink embellishment and pink satin bow it may become your first choice from all… Our heart stopped for a split second when we had this sheerest bra in our hands for the first time ever.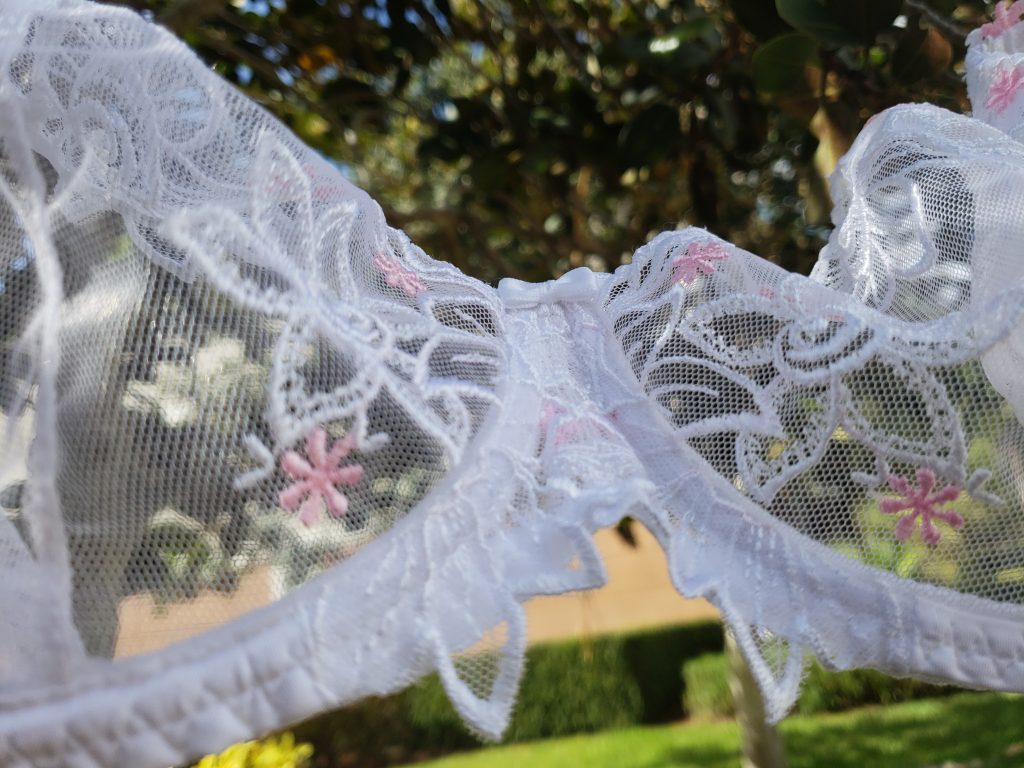 If you never noticed before that this white sheer bra has delicate spring pink flowers poking out, it may be obvious now, why it is worth to wait for delivery of this sheerest bra. Hand made to perfection, with soft mesh brought from Spain. This balconette bra is softer to touch than Pamela from our basic collection.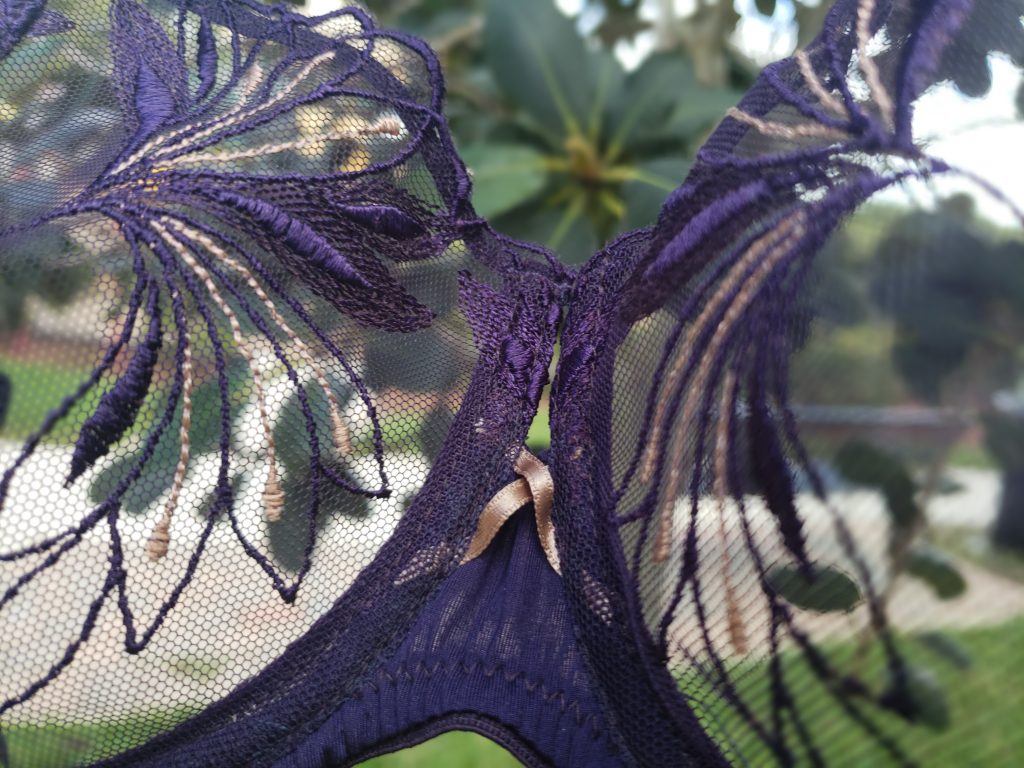 Good Girl has done really well so far and this is why we are presenting this ultra sheer bra as the third one in line. It became the most often ordered bra from our Custom Order Bras category, that is not made in classic black or white. Purple can be a new black, if dark in color enough. Embroideries on Italian mesh are straight up breathtaking. Can a balconette bra be made even in more transparent style?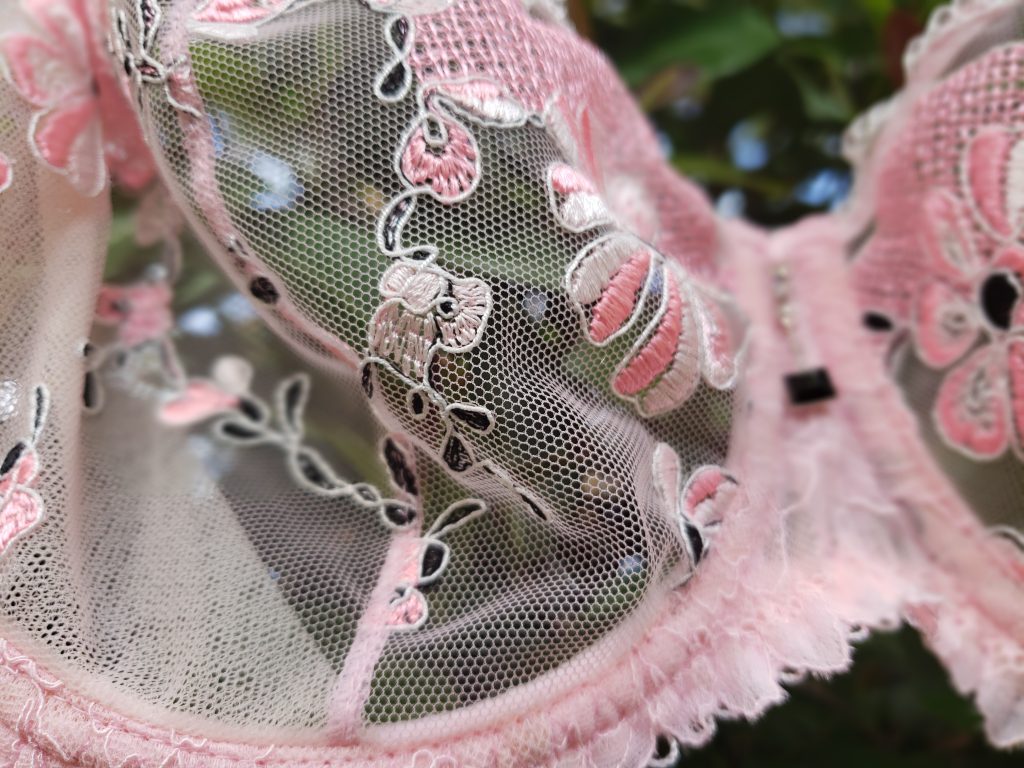 Second recently most sold bra from the extra sheer bras collection. This pink color is so delicate that even a oh-no-no-pink ladies spend an extra moment to trace the subtle pink, white and black embroideries with their eyes lighted up. The sheerest bra design, soft lacy band and dangling jewelry in the middle make it a luxury bra. Notice how the Spanish mesh fabric softly curves, allowing you to feel comfortable and scratch-free. Pink Wink bra in DDD+ sizes is also available to order.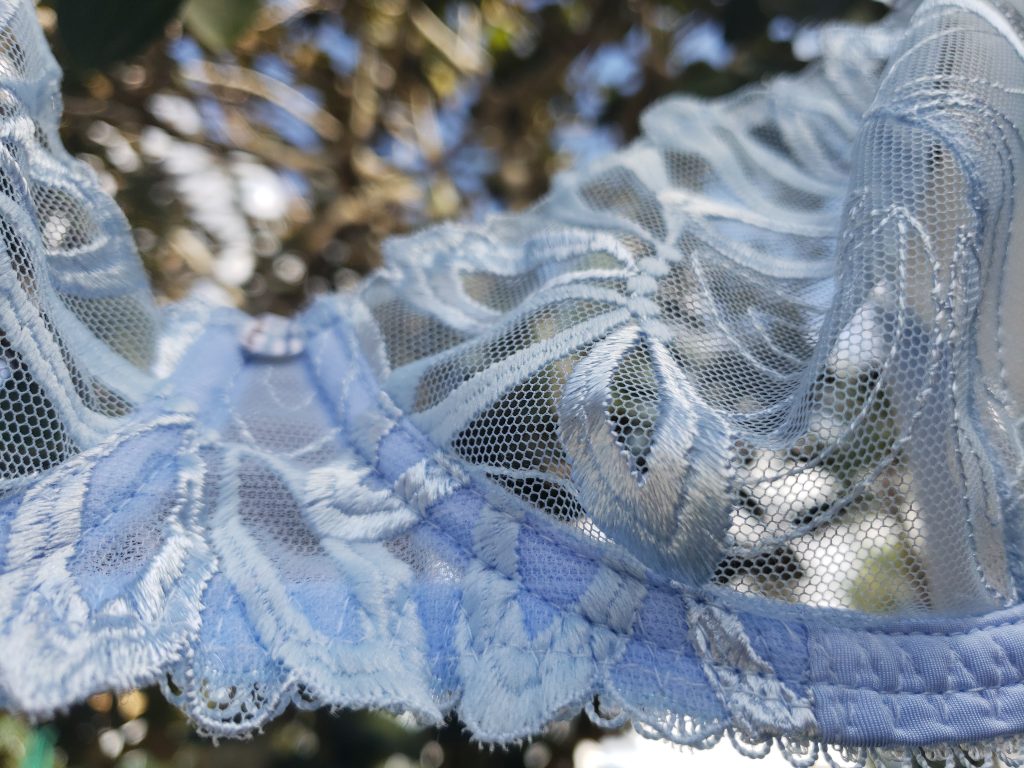 Light colored bras are a great alternative to white bras, as they also can be worn under white tops without the color showing through. Especially, if they are not heavily padded, perfectly hugging and shaping the bust, as this amazingly see through blue bra. Shiny blue embroideries stitched with Swiss perfection speak of quality and luxurious feel.
Fancy sheer bra in classic beige and black. The center part of cups made of such transparent mesh that the picture on product page makes it look invisible. We have to admit this is another our favorite bra, along with newly added Starlight Night bra in black. Perfection in European craftsmanship at the reach.
Cinnamon Coffee Bra in Plus Sizes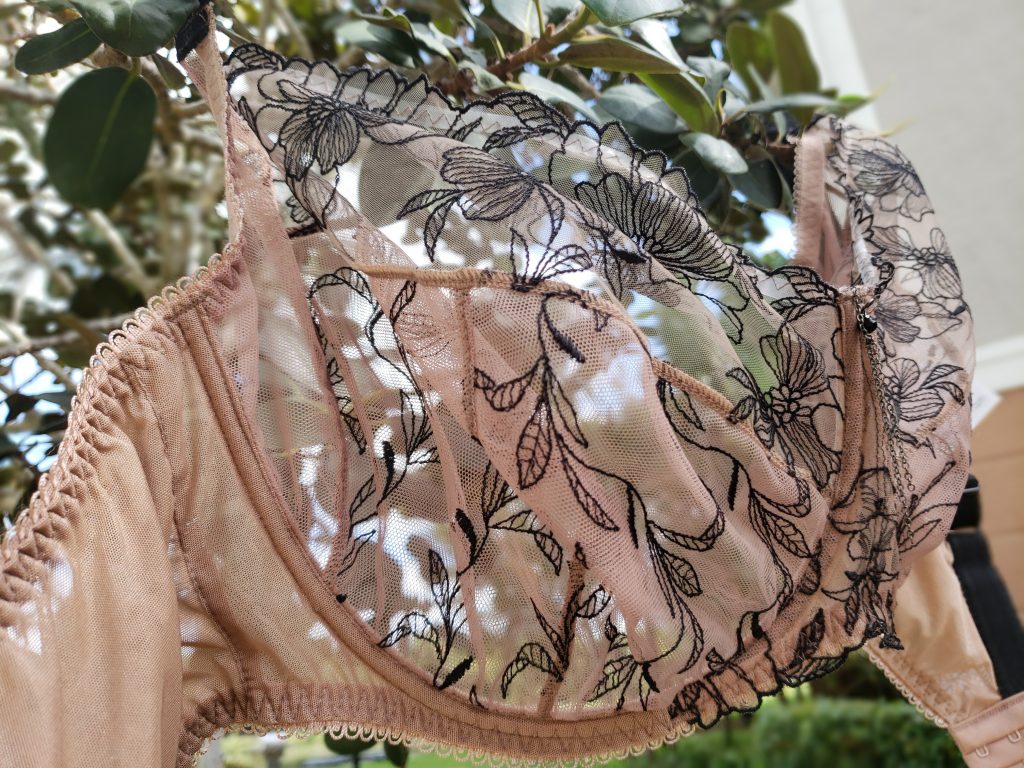 This bra is made for women of full figure or full bust. Extremely sexy in a sophisticated way, which makes it a perfect and non-offensive gift. Gentlemen who struggle on deciding what sheer lingerie their woman will love – this is a safe and still an exotic option. Take a look at the sheerness of this plus size bra and perfection in lace finish at the edges.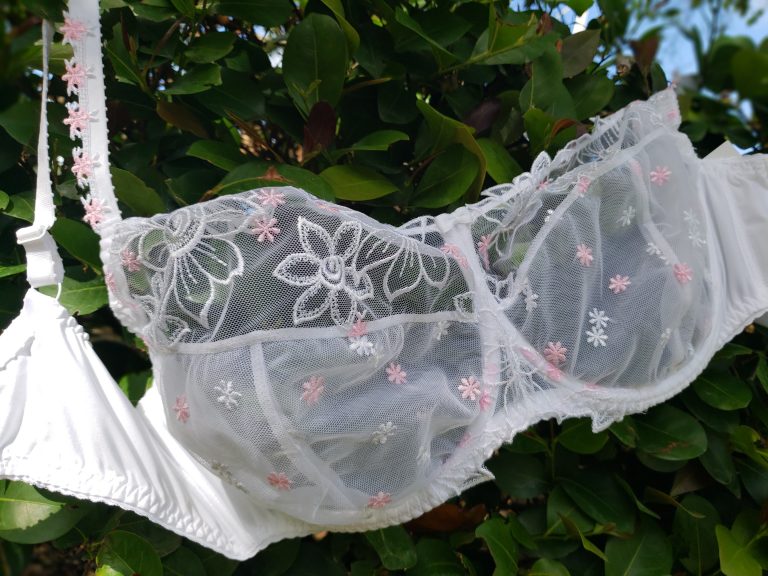 Sheerness and sophistication speak trough this not so simple white sheer bra for full busted women. European designers not only know how to make an H cup bra or J cup bra with mesh alone, but also how to make this lightweight design supportive, especially when it comes to heavy bust. Your Angel style is as adoring as the white balconette.
Whoever came up with the sheer design of this green bra, should be rewarded for perfection in nature resemblance. The two shades of green not only resemble the background leaves, but add so much radiance and life to otherwise serene style. Green vines leave as much transparency in balconette as in Mint plus size style.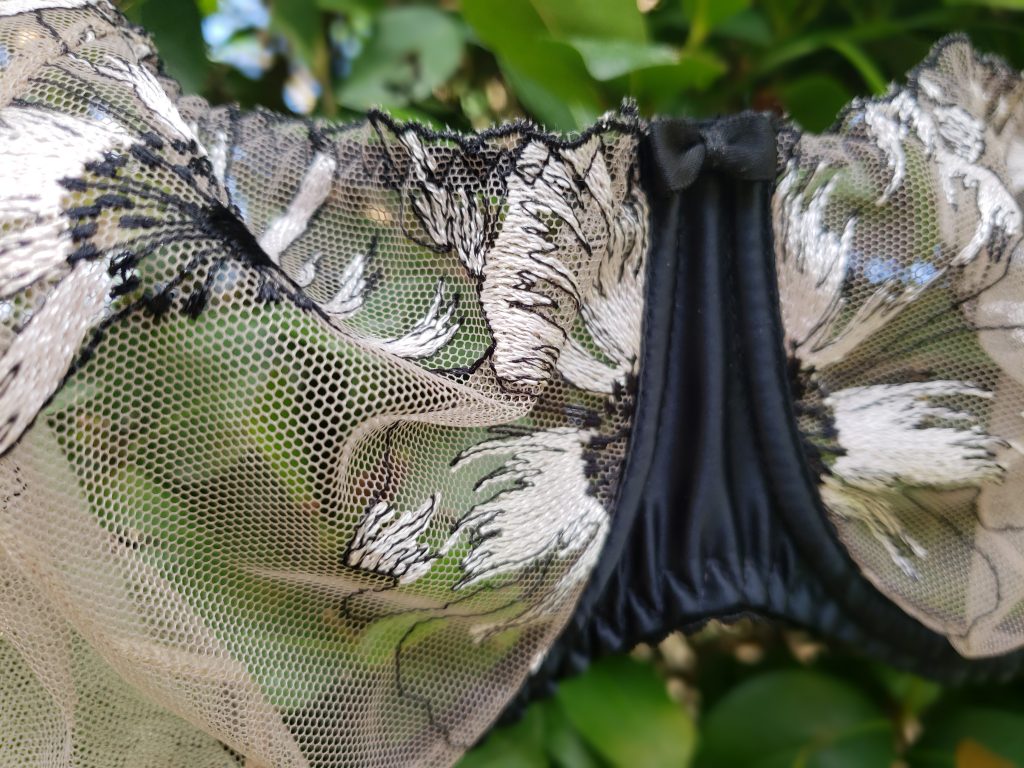 The amount of subtle embroidery at sheer bra cups of this style is mesmerizing. As seen on product page, it is a bra with large floral pattern. When seen from up close, you can truly see how much inner life this bra is emanating with. Light beige sheer tulle blends in with skin hue what gives an impression of wearing a floral tattoo. Black satin center bridge and black shoulder straps contrast well with this light colored bra. Porcelain Doll Plus size style uses more black satin in bottom part of the cups as seen on the product page.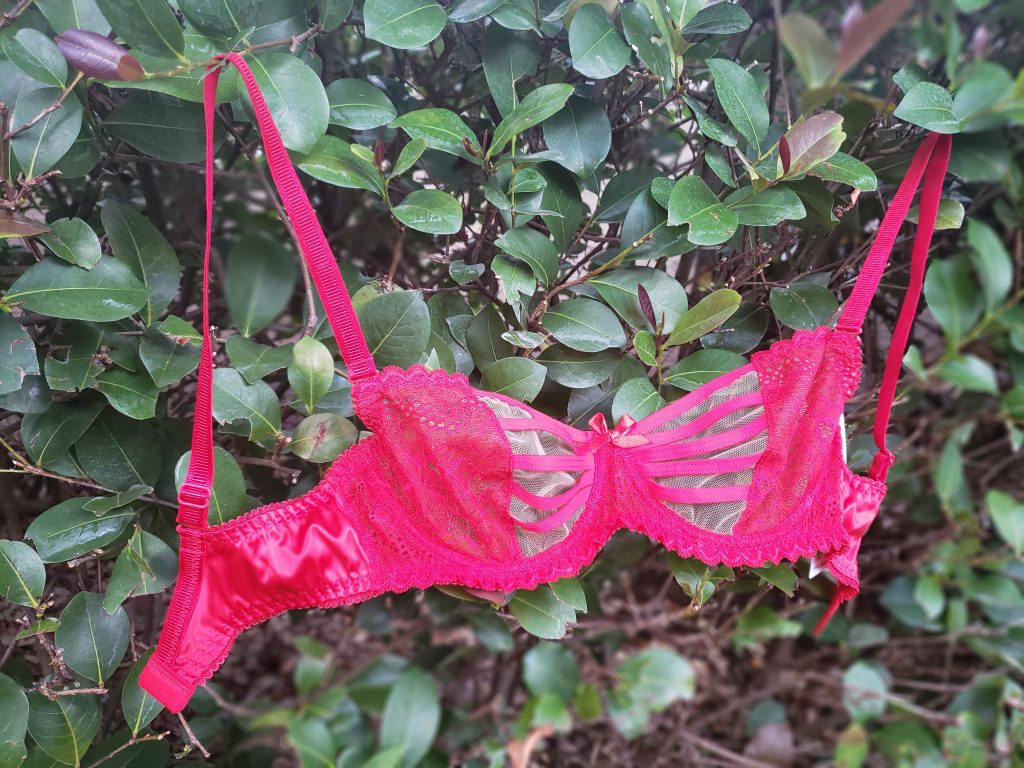 Vibrant red color, shiny satin band sides, sheer mesh cups that create that 3-D look with strappy front.The half sheer – half lace design is not created by accident. It is meant to make the bust look optically bigger. Women with smaller breast will definitely take the most advantage of this sexy red bra. Pay attention to ragged, anti-slip shoulder straps surface. All details of this bra are designed with precision and with lots of love Vibrant red color, shiny satin band sides, sheer mesh cups that create that 3-D look with strappy front.The half sheer – half lace design is not created by accident. It is meant to make the bust look optically bigger. Women with smaller breast will definitely take the most advantage of this sexy red bra. Pay attention to ragged, anti-slip shoulder straps surface. All details of this bra are designed with precision and with lots of love :)