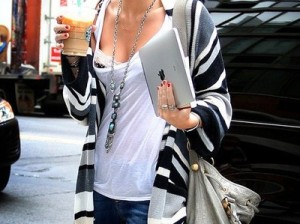 The term "Peeking Bra" derives from fashion observers noticing that sometimes a bra gets its day in the sun and it peeks out from under the shirt or a blouse. How often do we hear a woman saying that no one can see my bra anyways? Most of the time that remark comes from a woman that doesn't want a beautiful bra and is happy with any bra that does its job. There is nothing wrong with that, until we realize that a bra can be a bit less private than you think it is. There are many situations that our bra makes an appearance and we don't even know about it.
Apart from the obvious situations when we willingly show what we wear under our blouse there are the "sneaks and picks" that say something about us and we are oblivious to it. at that point we have a classic peeking bra. For some, to see a peeking bra doesn't mean that the bra is visible. All it takes is to see the posture and the shape your breasts under your covered shirt to see what style is your bra. A bra can be fully covered but for a trained eye the shape of your breast and the position of your breast can say many things to build your story. Let's look at couple of things where you exposed a peeking bra and you probably didn't know about it.
Peeking Bra Situations
A simple one is when we wear a sleeveless shirt - a peeking bra sometimes picks out bellow our armpit. This is something we don't control and I'm sure there is a difference if the bra is plain or discolored versus a bra that's nice and lacy on its edges.
Another and a big one for peeking bras is when we wear a button down shirt, which bends and folds when we are sitting down. The buttons hold the shirt together but when someone looks at us from a certain side angle the beauty of our peeking bra shows through. This can be an embarrassing situation but it doesn't have to be.
If you have a pretty bra on and feel confident about your bra, you know that that peeking bra is not harmful to your status and you can go on living, or even better. Last but not least scenario has to do with the light that surrounds you. If you are wearing a thin blouse or a shirt, light can play tricks and accent your bra really effectively. The lines of the bra can sometimes be very visible. And that's something that we can't control either. Than it becomes a peeking bra.
A way out is to wear elegant seamless bra that looks best under very thin fabric. Definitely, stopping to wear underwear we like is not an option nor a solution. There is a tip that can make a big difference. Make sure that the bra is not a secondary clothing article and that you buy the bras that if seen by accident will make you feel a proud woman and that there is nothing about a peeking bra that can throw you off guard.