In February 2014 a trade ban has been issued for Russian consumers that outlawed a specific type of lingerie from being imported. If any underwear with less than 6 percent of cotton material is attempted to be imported, it will be declined. The ban includes the areas of Russia, Belarus, and Kazakhstan. The lacy lingerie cannot be sold or made in the areas either. What women are being forced to wear is nothing compared to areas that have access to La Perla and Victoria's Secret. This underwear is not flattering at all. The women in this countries are not taking the ban lightly. Recently, 30 were arrested while protesting the ban. At the protest, they wore the lace underwear that is currently banned on their heads and shouted "Freedom to panties!" in unison.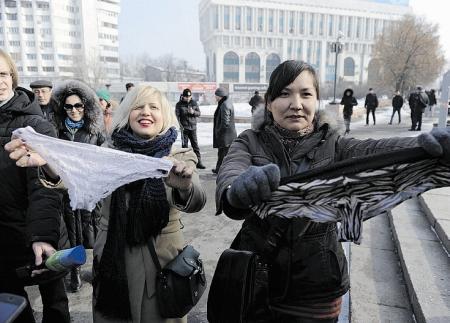 This ban began with text in the Eurasian Economic Commission in 2010. It officially went into effect on July 1st of this year but the outrage by residents arose long before the ban was actually placed. As another way to protest, people put photographs on social media outlets such as Facebook and Twitter. The photographs compared the lace lingerie to the outdated underwear that would be forced upon the population. The manager of a lingerie store in Moscow also expressed her concerns to the media of hurting the consumer the most by taking away the modern underwear.
Eighty percent of the underwear sold in Russia are imported into the area according to the Russian Textile Businesses Union. This amounts to over $4 billion of underwear. Approximately 90 percent of the inventory currently on the shelves would disappear with the ban. Many people view this recent ban as a prime example of the failed economic policies of several post-Soviet countries. Other people view it as a joke and have laughed it off since it has been perceived as even more regulations and controls being placed on the three countries. The Eurasian Economic Commission failed to commeant on the matter.