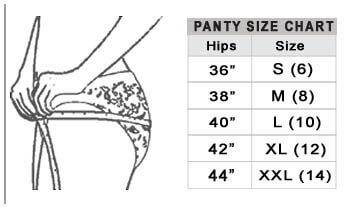 Front middle panel made with shiny satin pressed with jacquard intricate ivy motif. On the lower sides panties become sheer with one single pink rose sitting on a tulle with black and light grey wavy embroideries. The rest of the sides made with elastic satin microfiber surrounding the sheer peek-a-boo space. Top and bottom around the thighs scalloped with decorative looped guipure lace.


Back of the panties offer medium coverage, shaped in a triangle. Soft satin microfiber hugs delicately and comfortably as the fabric is very thin and lightly trimmed to lightly cover your behind without visible seams or cuts in the skin. Light and comfy, awesome substitute for popular thongs.
Bella Rosa grey lace bikini panties are an exclusive and limited edition item. The silver grey satin material is as shiny and beautiful as a sterling silver antique vase, polished to gleaming perfection! Two embroidered bright pink roses grace the sheer fabric on the hips. A single rose is classic and beautiful, but two roses are even better!


The embroidered roses rest on black tulle, below an embroidered scalloped pattern. The roses are delicately nestled on the hips, surrounding the middle fabric. An exquisite Jacquard trailing ivy covers the middle section of the bikinis. The roses and trailing ivy combination would be an ornate decoration displayed on an heirloom antique vase. The silver, methodically and loving polished to a high sheen, similar to the shiny satin fabric in these silver grey lace panties.


Beautiful and luxurious are prominent features in the visual appeal of this elegant lingerie garmeant. Yet, like the promise of a bar of silver, they're is more value than in the beauty of them. The lace panties satin microfiber fabric is silky soft, with the added benefit of a stretchy material. The end results - a snug and comfortable fit with the beauty of a valuable heirloom!


Available in sizes: S - Small, M - Medium, L - Large, XL - Extra Large.