About Sheer Bikini Panties White - Pamela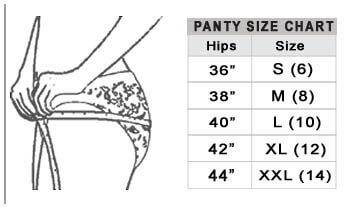 Encompass the essence of pure and innocent with the soft and sensual, Pamela White Sheer Bikini Panties. As you slip into these dainty panties, feel yourself transformed into an ethereal goddess. These white see through undies combine sexy, subtle and sweet into one tempting panty package. Whether you desire a flirty, playful lace design or are looking for a touch of sweet and girly, this white sheer bikini panties flaunt just enough skin while still saving some secrets for later.

The front panel of these white sheer panties features a delicate, lace floral design, imposed on top of translucent tulle. The intricately embroidered flowers, petals and leaves that adorn this front section add both a hint of femininity and cuteness, and take these bikini panties up a notch from your basic white sheer undies. The sheer, smooth back is designed to show off just the right amount of your behind while ultra soft microfiber and see thru tulle gently hug your hips, displaying your natural curves. This sensual panty beautifully complemeants all shapes and sizes. By naturally conforming to your body's curves, these bikini panties offer the ultimate in comfort, allowing you to proudly show off your figure.

These sheer white panties appear smooth and seam free underneath your clothing, allowing you to confidently wear that slinky outfit or your favorite skinny jeans. The comfortable fit of the bikini cut make these panties the perfect choice for everyday wear or for special evenings out. With medium coverage, these cute and cheeky panties tastefully show off your behind. Hitting your hips in just the right place to elongate your legs, the unique bikini cut of the Pamela White Sheet Bikini Panties works to elegantly expose your legs, creating a long, lean silhouette.

Although these panties can be worn with a variety of bras, to complete your set of white sheer lingerie, pair up these bikinis panties with the matching Pamela White Sheer Balconette Bra. Feel fabulous and sexy, even while completing mundane daily tasks, by treating yourself to a matching set of white sheer lingerie.

Sizes: S-Small, M-Medium, L-Large, XL-Extra Large.