About Sheer Hipster Panties Red - Rania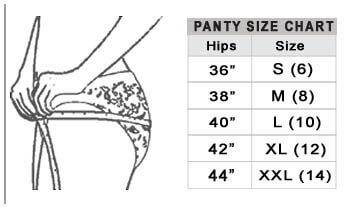 Your romantic companion will see your sensual and daring side when you have on these red lace panties, causing him to proceed with care. But don't worry, all he needs is a green light from you and his engine will be revved up with anticipation and excitement!


The hipster cut is a comfortable and relaxed fit, but doesn't make these red lace panties look any less chic and refined. There is a delicate scalloped lace edging brimming the hem, snugly embracing your hips.


The classy red panties exude sensuality and appeal, while displaying your cultured and sophisticated side. The carmine red back is opaque and a bit modest, but reveals just enough to spark the imagination. The solid cotton crotch is ideal for a woman's hygienic and sanitary needs. A delicate scalloped trim graces the top of the crotch, which is another small feminine detail that isn't left unnoticed.

You will positively stop traffic in your bedroom any time your lover sees you wearing these red sheer panties. As a woman, you want to make sure you can get your special one to stop and take notice of you. These classy red panties will add to your own natural beauty and allurement. Your partner will put on automatic brakes at the sight of you, not even taking the time to look both ways before crossing the bedroom. Your gentle welcoming embrace will protect them from getting whiplash from the sudden halt!

Turn up the heat by adding the coordinating Rania Red Sheer Lace Balconette Bra. The two-piece ensemble may cause a steamy collision, giving a new meaning to the expression: Stop! In the Name of Love. Then it's time to buckle your seat belt and brace yourself for a long, wild ride. Let your lover be the backseat driver, while you take control of the wheel. Slip on these red lace panties and give your lover the red light, green light, GO!

Sizes: S - Small, M - Medium, L - Large, XL - Extra Large.