About Turquoise Sheer Hipster Panties - Molly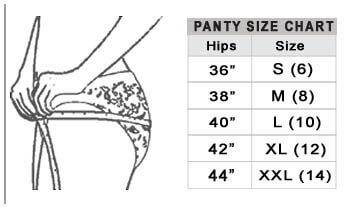 The mood is always bright and sunny when Turquoise Sheer Hipster Panties - Molly are involved. The gorgeous details on this panty design can take anyone's breath away. A carnival of lace covers the entire front portion of this undergarment. The lace is accented with gorgeous pink flowers and lilac petals that are strung together with blue swirls. The front portion of these turquoise sheer panties offers a transparent look that is airy, breezy and comfortable. The back offers solid coverage that supports the derrière quite comfortably. There is a thin band that circles around the waist to provide a subtle amount of support that feels very natural and smooth. This band helps to ensure that these panties stay in place and keep looking amazing with every twist, turn and movement. The quality of the fabric and lace used to create this piece of lingerie is apparent at first glance. European stitching and design have also been used to create this gorgeous piece.
The rare and wonderful color combination of the Molly hipster turquoise sheer panties is enough to make this a prized part of anyone's lingerie collection. The lightweight nature of this design makes it an ideal choice for anyone looking for panties that are easy to wash and dry quickly. These panties can be paired with a Molly bra in any style to create an amazing set that flatters and accentuates the whole body. Panties as beautiful and comfortable as this design simply don't come around every day. This look is destined to become a go-to design for dressy outfits and special occasions. These turquoise sheer panties can provide a very classy option for brides looking for something blue to wear under a dress on a wedding day.
Sizes: S - Small, M - Medium, L - Large, XL - Extra Large.