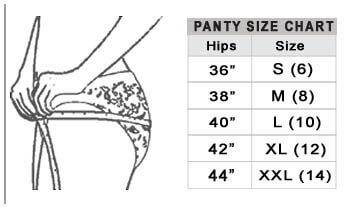 You may look like an angel when you wear Pamela White Sheer Thongs, but you will also feel naughty and mischievous! Highest quality imported French tulle feels heavenly on your delicate skin. The pure white color is a dazzling contrast against a golden tan, but will also be a striking contrast against any skin tone. The embroidered floral pattern in the front is an elegant concept, with swirling flowers and lace accents. The whimsical floral design makes you think of snowflakes falling on a snowy day, each one unique and special.


The front style of the sheer panties may have a look of innocence and purity. However, the back of the white sheer thongs have a daring and bold look, displaying all your ample charms with an exciting effect!


You will feel sensual and fearless in these sheer panties, but also content and relaxed when you have them on. The superior craftsmanship and exceptional fabrics create the best of both worlds. The cut is perfect when worn under any outfit, for any occasion. You will feel comfortable wearing them with a pair of jeans at the market, a business suit at work or a night on the town in your sexiest dress.


The perfect lingerie gives you beauty, style and comfort; which is what you get with these white sheer thongs. Make it the perfect set with matching Pamela White Sheer Balconette Bra. Show your lover you're angelic and devilish, naughty and nice, with these seductive panties!


Available in sizes: S - Small, M - Medium, L - Large, XL - Extra Large.