About Sheer Lace Thongs Red - Rania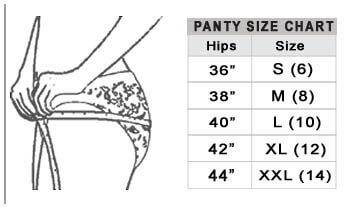 If you're missing red sheer thongs in your life, it's time to discover why so many women have fallen in love with Rania Red Sheer Lace Thongs. What will really impress you is the way these comfortable thongs seems to disappear under a variety of pants, skirts, dresses and yoga pants. You've never experienced a cut that is so perfectly designed to sculpt and support a woman's shape.


These carmine red lace thongs deliver some serious comfort and coverage in a very sheer package. You'll love the way they allow you to feel free and airy without skimping on structure and support. The front of this design features gorgeous sheer detailing that accentuates the hips and provides gentle sculpting and support. The front also offers a wonderful patch of coverage just where you need it. The elastic nature of the fabric of this design creates a fit that is incredibly smooth and comfortable. It moves with your body and flows with all your contours to create a feeling that is completely natural and intuitive. You'll soon discover that these red lace thongs are a perfect addition to any lingerie drawer because they can be worn under clothes or kept aside for romantic nights at home.

A gorgeous red thong is a quintessential item that belongs in every lingerie drawer. Of course, most women have struggled with thongs that are uncomfortable in all the wrong places! The Rania design has been carefully created using impeccable craftsmanship and high-quality fabric to ensure that you don't have to deal with any of the common pitfalls of the other thongs that are on the market today. You can wear this design all day long without regrets. This is one design that you might want to consider stocking up on if your wardrobe features bottoms that are vulnerable to visible panty lines. These beautiful red thongs can be paired with the Rania Red Sheer Balconette Bra to create a stunning look that can be worn under any outfit or enjoyed as sexy lingerie.


Sizes: S - Small, M - Medium, L - Large, XL - Extra Large.