About Sheer Thong Panties Black - Pamela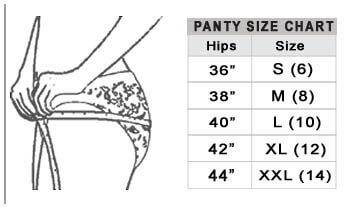 This high-class black, elegant, sheer lace thong is truly the embodimeant of sexy! How could you not want this in your intimate drawer? It is feminine and frilly. When a woman wears fine designer lingerie, she feels strong and glorious.

The Pamela Sheer Thongs is a bedroom show stopper, indeed. It comes in a range of sizes, so any woman can enjoy its beauty and sensual appeal. Surely, black panties are in every woman's lingerie collection and embroidered panties are a necessity for today's woman.

A woman feels sexy and powerful in the Pamela Black Sheer Thongs. Long gone are the days of overpriced, out of reach designer lingerie. Today's woman wants lingerie that is tasteful, sexy and of great value.

The super soft, sheer fabric is extremely comfortable. The sheer sides, the embroidered lace inset and the dainty ruffle of the sheer thongs make it the ideal gift for yourself. The unique design of the sheer thongs is utterly alluring and irresistible. This tantalizing thong can be worn under anything, including a suit, a dress or slacks. The design is flattering on any figure and will make you feel empowered. It would be especially appealing under a sheer black robe. You could dare to wear the Pamela panties with the matching black Pamela Black Sheer Balconette Bra or Push up Bra. In the cold weather months how can a woman feel feminine and sexy when she is wrapped up in layers of clothing? Designer lingerie hidden beneath your coverings can make you feel desirable and glamorous, even under a bulky sweater. During warmer months you get to feel even more flirty and show a little of your lacy acquisitions. There is no losing when wearing black thongs!

Embroidered lace lingerie is always the right choice for any occasion, whether it is day or evening, work or play. Embroidered lace will make you feel sexy and beautiful, no matter what your size and shape. The discerning woman will enjoy wearing this lace black thong. What a sensual, empowering feeling it is for her to know that underneath that navy suit is this delicately embroidered black thong. With its beautiful and unique design, any woman can wear the Pamela thong with confidence!

Sizes: S-Small, M-Medium, L-Large, XL-Extra Large.