About Sheer Thong Panties - Camilla Beige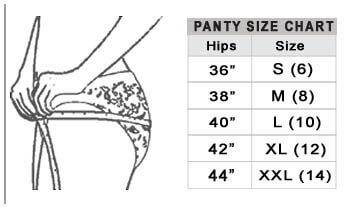 Camilla sheer thong panties are cut to flatter and support the body in a way that is unique among thongs today. The days of bunching, shifting and causing discomfort are officially over. This unique see through design features a soft texture that melts against the skin and makes it so easy to forget that underwear exists at all! The front portion of the thong features a solid piece of beautiful mocha-inspired fabric. This nontransparent, soft fabric serves as the perfect foundation for the thong. The sides of the thong feature sheer lace and embroidery. The beautiful floral lacework brings a sophisticated, feminine dimension to the design. The sides of the thong seamlessly wrap around the hips to create a smooth look. A gentle band wraps around the tummy portion of this thong design to ensure that it stays put at the waist and creates a sleek look. The same subtle bands are used where the thong meets the thigh. The back portion of this thong offers total freedom. This is the perfect design for anyone who has been searching everywhere for cappuccino underwear.
These sheer thongs can be paired with a Camilla balconette bra to create an amazingly sheer and freeing lingerie look. The perfect balance of airy sheerness and controlled support come together in this thong design. It is worlds apart from the flimsy fashion thongs that are so prevalent today. This is a great go-to thong design for the times when panty lines need to be managed. The design works perfectly with everything from tailored black pants to comfortable, formfitting yoga pants. This thong is a perfect alternative to the white, tan and black thongs that most women already own. Its mocha-inspired shimmer is both subtle and unique.
Sizes: S (Small), M (Medium), L (Large), XL (Extra Large).