About Silana - Lace Bikini Panties Beige: S, L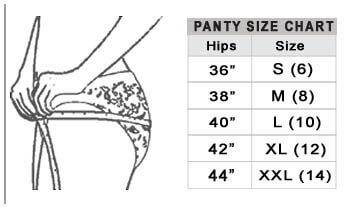 Are you ready for a pair of lace bikini panties to help you get out of your lingerie slump? Let the Silana Beige and Steel Blue Lace Bikini Panties bring a pop of color to your lingerie drawer. These gorgeous panties offer the best of European design and craftsmanship. In fact, each panty is made in Europe using high-quality fabrics that satisfy the need for durability, without sacrificing beauty and delicateness.
The panties feature great coverage in the front and a sheer back that is meant to help you tempt and tease as your skin breathes. The back of the panties features stretch mesh fabric in an alluring shade of beige. These beautiful, dainty lace and mesh panties are constructed using nylon, cotton and spandex to offer just the right mix of support and softness.


Are you finally ready to enjoy a pair of lace and mesh panties that are as much fun to wear under your favorite outfit as they are while lingering around the bedroom during a romantic weekend at home? These gorgeous panties are designed to fit smoothly and flawlessly under everything from jeans and yoga pants to dress pants and pencil skirts. You can finally kiss lumps, bumps and unevenness goodbye when you get dressed in the morning.


The gorgeous floral pattern and artistic mesh accents on these panties will make you want to strut around the house with confidence. Be sure to pair these stunning lace bikini panties with the accompanying Silana Beige and Steel Blue Lace Full Cup Bra or Silana Beige and Steel Blue Lace Push up Bra to create a sweet and sexy ensemble that will make you feel flirty and feminine from sunrise to sunset.


Available in sizes: S -Small, M - Medium, L - Large, XL - Extra Large.