About Fanchone - Beige Lace Bikini Panties: XL, XXL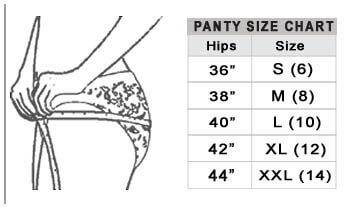 Fanchone Smooth Beige Lace Bikini Panties give every woman a reason to celebrate freedom in motion. These nude lace panties offer a smooth, seamless fit beneath dress pants, yoga pants, pencil skirts, dresses and whatever else you wear when you want to look and feel your best. You'll appreciate the way these beige lace bikini panties cling to your curves without causing you to feel constrained. They offer exceptional coverage that extends from the abdomen to the thighs. A set of carefully placed lace accents over the hips allows skin to breathe without sacrificing support.


You can finally add a pair of attractive, supportive XXXL beige panties to your lingerie drawer this season. These beige lace bikini panties are ideal if you're looking for a pair of practical panties to wear during the workweek or if you're looking for a special piece of lingerie that will make you feel feminine and confident for long, lazy weekends spent in bed with a special someone. These nude lace panties are particularly useful if you're looking for underwear you can wear under white or light pants, shorts, skirts and dresses. The neutral tone of these panties enables them to disappear beneath even the lightest of fabrics. It's definitely time to leave the fear of visible panties behind without giving up the comfort and full support of a style that offer real coverage from front to back.


If you're looking for a great bra to pair with these S - XXXL beige panties, be sure to discover Fanchone Beige Lace Full Coverage Bra. This combination can offer seamless support under light fabrics.


Available in sizes: S - Small, M - Medium, L - Large, XL - Extra Large, XXL - Extra Extra Large (2XL), XXXL - Extra Extra Extra Large (3XL).