About Selena - Light Cream Sheer High Waist Brief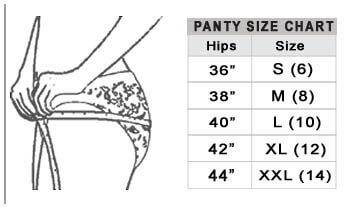 You will never feel frumpy or dull when you have these on, but sexy and confident! A high waist design gives extra coverage and helps flatten the stomach. A front part features high quality stretchy sheer material that helps smooth away unwanted bumps and bulges. On the days you feel like "those 5 extra pounds" are showing, grab these high waist brief. They are an easy fix in smoothing the tummy area and making you feel as if you have lost those 5 pounds! Elastic nylon on the backside helps flatten away any dimples or 'love-handles' that need a little TLC.


These sheer panties have front double mesh lace panels that border the sheer mesh front section. While this beautiful design appears fragile and delicate, the double mesh application adds strength and durability. The lace sections have floral embroideries and delicate scalloped trim, an exquisite and subtle touch. The cotton crotch is soft and comfortable, making sure you will feel fresh and secure all day!


These sheer panties are perfect for everyday wear or special occasions. This modest design is ideal for the first time bride, a gift for a practical woman or a gift for yourself! The neutral color goes with many other color choices, so make sure to mix and match them with some of your other favorite lingerie. Another advantage is knowing that you can wear this neutral color with any light-colored outfit. Feel confident when you have on your favorite white capris or a sheer and thin summer dress, knowing that only you will know the color of your panties!


Some woman enjoy mixing up their lingerie colors, while some prefer their lingerie as a complete set. If you get more pleasure in having your lingerie as a coordinating ensemble; make sure to get the complimeantary bra. The Selena Light Cream Sheer Balconette Bra or the Selena Light Cream Unlined Sheer Bra will fill the order and put a smile on your face!

Available in sizes: L - Large, XL - Extra Large.