About Turquoise High Waist Brief - Molly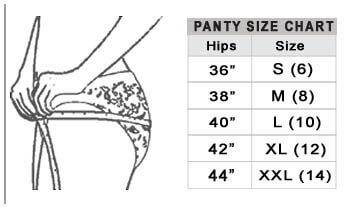 Who says feeling blue is a bad thing? Turquoise large panties that fit like a second skin and look smooth with any type of outfit should be celebrated. The search for the perfect plus size sheer panties should end with Turquoise High Waist Briefs - Molly. This beautiful design combines sheerness with perfectly placed coverage to create the ultimate panties for daily wear. This design offers a nice compromise between going totally sheer and wearing a thick panty. Two windows of sheer lace extend from the hips to the center of the panties to create a gorgeous look. These lacy windows feature exquisite stitching with floral patterns. The front portion of the light blue panties features a block of fabric that covers and conceals in a very sophisticated way. The back portion offers a solid block of coverage. There is gentle scalloping along the waist. The waist of these panties is designed to rest softly against the skin without digging, pinching or bunching. The cut of these gorgeous turquoise large panties extends to just below the hip bones.
These elegant briefs feature all the hallmarks that are exclusive to high-quality European lingerie designs. The design offers a very solid construction that provides a comfortable, durable fit that caresses the skin and holds up against daily wear and tear. It's impossible to talk about these plus size sheer panties without discussing the amazingly vivid color of the fabric they are made from. This shade of turquoise is brilliant and alluring. It is sure to look great with any skin tone. This unique panties can be paired with a sheer Molly bra to create a bold blue look that brightens any day.
Sizes: L - Large, XL - Extra Large, XXL - Extra Extra Large.