About Leticia - Green Sheer Hipster Panties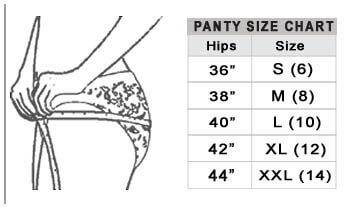 Leticia Green Lace Sheer Hipster Panties are vivaciously beautiful. Wearing these rose-covered panties can feel like a walk in the garden. Green roses line the bottom portion of these panties like a perfectly planted row of garden flowers. Gorgeous vines lead up toward the navel to create a design that resembles a painted scene. The front panel of this panty design is partially transparent. This creates a cool, breezy feel against the skin. These see through panties make it easy to feel cool and comfortable under pressure. A thin and subtle ban lines the top portion of this design to ensure a soft and secure fit around the waist. This design can be kept for special occasions or used regularly under delicate emerald green sheer fabrics.
These lace hipster panties fall naturally against the hips and cradle curves with ease. There is never any worry of feeling compressed or squeezed when these panties are on. They offer a perfectly natural and free fit. However, they still provide the amount of support that is needed to feel secure and protected. These green lace panties can be worn under a variety of pants, skirts and dresses. They create a barely-there feel that makes it easy to glide around and make natural movements without fear of bunching or shifting. The true beauty of this lace hipster design is that it is light enough to be packed in an overnight bag and washed during a vacation.
Leticia Green Sheer Hipster Panties are those go-to panties that make it easy to feel beautiful. They look absolutely radiant when paired with a balconette bra. A gift set can be created by simply pairing this panty design with the emerald green Leticia bra.
Sizes: S (Small), M (Medium), L (Large), XL (Extra Large).