About Gabrielle - Black Satin Bikini Panties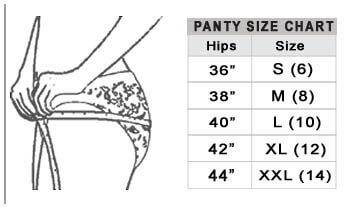 Gabrielle Black Satin Bikini Panties by Ava were made for the moonlight. These mesh lace panties invite you to participate in a silky surrender. This timeless design works wonderfully under anything from yoga pants to formal dresses. The design's careful craftsmanship and high-quality materials offer wonderful support in the tummy area, derriere and over the hips.


A beautiful lace embellishmeant under the navel allows skin to breathe and adds a dash of sophistication. In addition, dainty lace trim carefully dances along the cut of these black satin bikini panties and whispers sexy secrets over the skin of a woman's thighs. A mesh back creates airiness and gives women the ability to flaunt with confidence. The stars have really aligned to create a look that reveals just enough skin without leaving a woman feeling unsupported where it counts most. This is a perfect choice if you're looking for a pair of black satin bikini panties that will conform to your shape instead of forcing you to deal with rigid cuts or uncomfortable fabric alignmeants.


Gabrielle Black Satin Bikini Panties by Ava offer a touch of softness without skimping on serious support and impeccable construction. It's clear to see that midnight desires are balanced with practical needs in these beautiful black silk satin panties. Women can appreciate that this design can be worn as part of a regular rotation during the workweek or put aside for special nights when feeling like a vixen is on the agenda. These black silk satin bikini panties create a sexy ensemble when paired with Gabrielle Black Satin Balconette Bra by Ava.


Available in sizes: M - Medium, L - Large, XL - Extra Large.