About Sheer Bikini Panties White - Gabrielle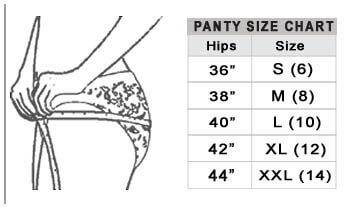 Gabrielle White Satin Bikini Panties are the perfect go-to panties for all occasions. The imported material is silky and soft, and will feel luxurious when you slip them on. The design is simple and classic, not flashy and flamboyant. Yet, it's such an elegant and tasteful piece of lingerie. The dazzling white color is a striking contrast, and the decorative lace accents add more appeal. A masterfully created V-shaped lace design in the front adds another touch of elegance. The lace floral pattern is exquisite and draws just the right amount of attention, while still leaving something to the imagination. A dainty lace ruffle trims the bottoms, another charming and alluring detail added to this beautiful pair of white satin panties.


Not only are these satin bikini panties sexy and fashionable, they are also comfortable and cozy. The white sheer mesh back of this satin panties is stretchy,so you won't feel constricted uncomfortably. The front fabric is ultra thin, another benefit so you won't feel confined and uncomfortable. White is the most versatile color for undergarmeants when you are wearing light-colored clothes. You're going to feel confident and reassured when you're wearing these white lace panties. No need for worries or embarrassmeant because others can't see what color of panties you have on.


Innocent, pure and forbidden are often associated with the color of white. Perhaps these panties are a gift for yourself to wear on your honeymoon night, and that's exactly what you want your spouse to think. Perhaps you want your spouse to think sinful, impure and naughty thoughts when you show them to your lover. Give your lover the best of both worlds; look like an angel, but show your devilish side! Add the matching Gabrielle White Strapless Satin Balconette Bra for the greatest results.


Available in sizes: S - Small, M - Medium, L - Large, XL - Extra Large.